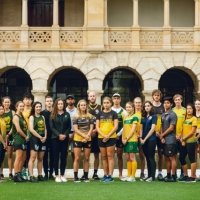 Tuesday, 18 June 2019
A round of meetings and visits to Healthy Campus pilot universities resulted in key areas being mapped out, which the project will focus on.
The University of Western Australia in Perth, Johannesburg University in South Africa and FISU agreed that the pilot project will stress upon: physical activity and sport, nutrition, disease prevention, mental health, risk behaviour and environment and sustainability.
Fernando Parente, member of the FISU Executive Committee, met Professor Dawn Freshwater and Professor Tshilidzi Marwala, Vice Chancellors of UWA and JU respectively to align strategies and roadmap plans.
The Sports Directors of both universities, namely, Ian Fitzpatrick and Nomsa Mahlangu were also part of the meetings and will be key in implementing the project.
The FISU Healthy Campus project is an initiative that aims to enhance students' well-being in all aspects.
FISU's objective with this project is to establish an interdisciplinary system dedicated to well-being, a healthy lifestyle & awareness among students regarding these aspects.
A 'FISU Healthy Campus Label' will be awarded to acknowledge the universities' efforts in improving the quality of life on their campuses.
The seven pilot universities have embraced this concept eagerly and are in the process of creating a working group within the university that will ensure the project is properly conducted.
The group will include specialists from different departments of the university, related to the scope of the project.
The Vice Chancellors stressed the importance of sport and physical activity, especially in comabting problems such as mental health, and not just physical ailments.
This matter was also discussed at Peking University, where the first kick off meeting was held and at the University of Lausanne, on whose campus the FISU headquarters are.
Both these pilot universities have already developed interesting projects, good practices and research in the area of stress, sleep, physical health and social integration.
The next and final round of meetings will be held with the University of Turin in Italy, the Peoples' Friendship University of Russia (RUDN) in Moscow, and La Matanza in Argentina
Media references
Originally published by FISU (5 June 2019)
Louis Humberstone
UWA Sport Marketing, Communication, and Events Coordinator
6488 4309
Tags
Channels

Sport

Groups

UWA Sport