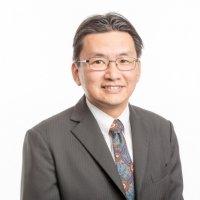 Friday, 14 June 2019
A medical researcher from The University of Western Australia has today been named Cancer Council Western Australia 2019 Cancer Researcher of the Year.

Professor Gary Lee was recognised for his research into pleural effusion, a build-up of fluid in the chest which affects more than 8000 cancer patients a year in Australia, especially those with lung and breast cancers and most of those with mesothelioma, a fatal cancer of the lining of the lung caused by exposure to asbestos.

The fluid accumulation often causes disabling breathlessness and requires repeated invasive procedures to drain it. Management of cancer-related effusions accounts for more than 8000 bed days and more than 10 million care costs in each year in public hospitals of Western Australia alone.

Professor Lee splits his time between working as a professor of respiratory medicine at UWA and a consultant chest physician and director of pleural services at Sir Charles Gairdner Hospital.

Cancer Council WA CEO Ashley Reid said Professor Lee had successfully initiated and led two multinational clinical trials.

"These trials have brought major advancements in pleural medicine and are contributing to greatly improved outcomes for patients," Mr Reid said.

Professor Lee was instrumental in setting up pleural medicine as a new subspecialty in Australia. Western Australia is the first state in which all tertiary hospitals have a specialist pleural physician, all trained by Professor Lee at Sir Charles Gairdner Hospital. This has significantly improved the diagnosis and management journey of cancer patients with pleural effusions.

Professor Lee led the use of a new drainage device (called the indwelling pleural catheter) that allows, for the first time, patients to drain their fluid at home if and when they become breathless.

He set up the AMPLE (Australasian Malignant Pleural Effusion) network across hospitals in Australia, New Zealand, Hong Kong, Singapore and Malaysia.  Through the AMPLE network, he led two multicentre randomised trials that showed indwelling catheter treatment improves patient symptoms and quality of life.

Most importantly it allows patients with advanced cancers to spend significantly less time in hospital and more time at home with family. From a healthcare perspective, this treatment can save more than 14,000 hospital bed days across Australia a year.

"This award is an important recognition of the effort of my very dedicated team of research fellows and collaborators who are devoted to improving patient care," he said.

Professor Lee is regarded as the world leader in pleural medicine and has delivered more than 300 invited lectures in 30 countries. His work has attracted than 20 overseas specialists to undertake pleural training at Sir Charles Gairdner Hospital, most of whom were sponsored by their home government and returned to their country/state to start their own pleural services.

"We are proud to show that investigators from WA could design and lead high quality multicentre clinical trials that impact on clinical practice worldwide. This is only possible through funding from agencies like Cancer Council WA."

Professor Lee follows UWA's internationally recognised asbestos-related diseases expert Professor Anna Nowak who was awarded Cancer Researcher of the Year in 2018.

Professor Nowak was also awarded almost $100,000 by Cancer Council this year to undertake laboratory testing to understand why some patients with mesothelioma responded better to a combination of chemotherapy and immunotherapy.
Media references
Professor Gary Lee (UWA Medical School)                                                                      08 6151 0913
Simone Hewett (UWA Media & PR Adviser)                                                                     08 6488 7975
Tags
Channels

Awards and Prizes — International — Media Statements — Research — University News

Groups

Faculty of Health and Medical Sciences — School of Medicine and Pharmacology