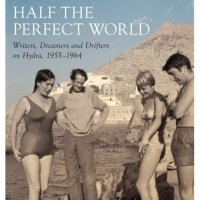 Thursday, 6 June 2019
Congratulations to UWA's Associate Professor of English and Literary Studies, Tanya Dalziell, and Curtin University's Associate Professor in the School of Media, Creative Arts and Social Inquiry, Paul Genoni, who last month announced the sale of film rights for their book, Half the Perfect World: Writers, Dreamers and Drifters on Hydra 1955 – 1964, to Cascade Films.
Published by Monash University Publishing, Half the Perfect World: Writers, Dreamers and Drifters on Hydra, 1955 – 1964 , is a photographic and biographical history that brings life to the post-war international expatriate artist community that formed on the Greek island of Hydra on the cusp of the 1960s.
Uncovering insights into the political and social contexts of the Aegean at the time, the book also traces the individual lives of a host of writers and artists including Australian literary couple George Johnston and Charmian Clift as well as renowned singer-song writer Leonard Cohen and his partner Marianne Ihlen, and follows their search for a more meaningful and creative existence on an exotic, impoverished Greek island. An existence in stark contrast to their lives in their home countries.
"We collaborated for over five years on the research and writing of the book. Along the way, we were fortunate to access private collections and archives, and to conduct interviews with many of those dreamers and drifters who lived on Hydra in the early '60s." Associate Professor Dalziell said.
"We were thrilled that Leonard Cohen gave us permission to use his letters, and that other people also trusted us with their memories and photographs. For us personally it was an engrossing project with some really memorable break-through moments."
Following positive reception in the national press, the book caught the eye of screenwriter Andrew Knight ( Hacksaw Ridge , Rake , Jack Irish , The Water Diviner ), a pre-eminent figure in the Australian screen industry who is now spearheading the project with Cascade Films alongside director Nadia Tass( Malcolm , Pure Luck , Amy , Matching Jack ) and producers David Parker ( Malcolm , The Big Steal , Fatal Honeymoon ) and Carmel Meiklejohn( Fatal Honeymoon ).
"We recently met with the producers, who put to rest our initial disbelief that they wanted to film the book. It was reassuring to learn that they share our commitment to charting the challenges facing those artists and writers who formed an unlikely expatriate community in the Aegean." Associate Professor Dalziell said.
Filming of Half the Perfect World will commence in late 2021.
For more information, visit:
Media references
Caitlin White (UWA Faculty of Arts, Business, Law and Education) (+61 8) 6488 3214
Tags
Channels

Arts and Culture — Research

Groups

Faculty of Arts, Business, Law and Education