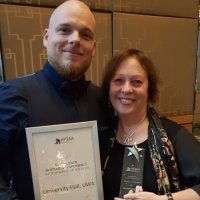 Wednesday, 5 June 2019
The University of Western Australia has a continual roll call of awards, scholarships and prizes presented to staff and students. To recognise these achievements, an article is published on the UWA news page on the website and in UWA Forward on the first week of every month. If you know of great awards or achievements across the University please email [email protected]

Name: Dr Jilen Patel, Faculty of Health and Medical Sciences

Achievement: Dr Patel has been named the 7NewsWA Young Achiever of the Yearfor his commitment to helping vulnerable and disadvantaged families in remote Aboriginal communities in the Kimberley, homeless people, refugees in the Perth metropolitan area and children with complex medical needs.. He also won the Community Service & Volunteering category of the awards. A UWA dentistry graduate, Dr Patel works as a specialist paediatric dentist, senior lecturer in clinical dentistry at UWA's Dental School and a consultant at Perth Children's Hospital.

Name: Professor Alistair Paterson, Faculty of Arts, Business, Law and Education

Achievement: Professor Paterson is the chief investigator of the ARC Linkage Project, 'Shipwrecks of the Roaring 40s: A maritime archaeological reassessment of some of Australia's earliest shipwrecks', which has won a research award for the WA Museum at the 2019 Museums and Galleries National Awards . The project aims to make a significant contribution to our understanding of Europeans active in the Indian Ocean and our region during the 17th and 18th centuries through the unique window into the past provided by these maritime archaeological sites.

Name: Dr Alexander Bors, Faculty of Engineering and Mathematical Sciences

Achievement: A Visiting Research Fellow at the Centre for the Mathematics of Symmetry and Computation (ICA), Dr Bors has been awarded the 2018 Kirkman Medal of the Institute of Combinatorics and its Applications. The Kirkman Medals recognise excellent research by Fellows of Associate Fellows of the ICA early in their research career. Dr Bors has made outstanding contributions to the understanding of combinatorial and quantitative problems on finite groups.

Name: University Hall

Achievement: University Hall has been recognised in the Asia-Pacific Student Accommodation Association Awards, winning the award for excellence in student experience for institutions over 500 beds. The award recognised University Hall's professional development student enrichment program.

Name: Planning and Transport Research Centre (PATREC), Faculty of Science

Achievement: PATREC developed the RailSmart Platform technology, which has been recognised in the Smart Cities Awards 2019 for best integration of an individual technology for the City of Wanneroo. The platform integrates numerous sets of data from the Australian Bureau of Statistics and other data sets such as the public transport ticketing system to work out how the city of Perth functions and how people move around.

Congratulations UWA staff and students.
Media references
Simone Hewett (UWA Media and PR Adviser)                                (+61 8) 6488 7975
Tags
Channels

Awards and Prizes — Media Statements — University News

Groups

ECM Faculty Focus — Faculty of Arts, Business, Law and Education — Faculty of Engineering and Mathematical Sciences — Faculty of Health and Medical Sciences — University Hall