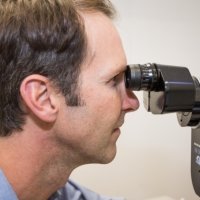 Tuesday, 4 June 2019
A leading eye doctor from The University of Western Australia with a deep passion for helping remote, rural and disadvantaged communities is among seven people to be recognised in the 2019 Western Australian of the Year awards.
Dr Angus Turner received the Professionals Award along with UWA graduates Harrison Garland who received the Youth Award, Dr Erica Smyth AC who received the Business Award and Bourby Webster who received the Arts and Culture Award.
Dr Turner travels around the North West working with the Lions Outback Vision team and provides sight-saving treatment to people in some of the most isolated communities. He said there were nearly 100,000 people residing in the North West and there should be three full-time ophthalmologists to match the levels of staffing in urban areas, but there was none.  His vision is to establish a regional hub in Broome to help service patients from Karratha to Kununurra.
UWA Graduate Harrison Garland received the Youth Award for his work founding 'Swim for Proudie,' a fundraiser he developed to support his friend and former Claremont Football Club player, Warrick Proudlove who suffered serious injuries in a horrific car accident. Since founding Swim for Proudie, Mr Garland's team has grown to over 80 members raising a grand total just shy of $160,000 to support Mr Proudlove and his family.
Dr Erica Smyth AC received the Business Award for her pioneering work in bringing companies, communities and governments together on exploration projects. One of the first female geologists in WA, Dr Smyth is considered a trail-blazer for gender equality within her field who is actively engaged in enabling women to create their own future through mentoring roles.
Arts and Culture Award recipient Bourby Webster's mission is to take orchestral music to WA communities that usually do not have access to it – and deliver it with a twist. As founder of Perth Symphony Orchestra (PSO), Ms Webster has a long-held passion for bringing classical music to the masses and internationally, Perth Symphony Orchestra's profile also continues to grow under her leadership.

Leading social worker Glenda Kickett from UWA and internationally renowned pre-term birth expert Professor John Newnham were also recognised as finalists in the awards as well as graduates Frank Cooper AO, Mark Coughlan, Professor Peter Newman AO and Kendall Whyte.
The awards were presented at a gala dinner at Crown Ballroom on Friday.
Dr Angus Turner video - helping WA's remote communities see a better future
Media references
Jess Reid (UWA Media and PR Advisor) 08 6488 6876
Tags
Channels

Awards and Prizes — Media Statements — University News

Groups

Faculty of Health and Medical Sciences