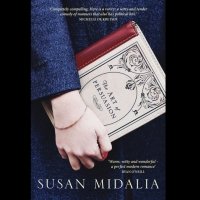 Monday, 3 June 2019
Susan Midalia presents "Politics and the Novel"
The nineteenth-century French writer Stendhal famously observed that "politics in a literary work is like a gun shot in the middle of a concert: it's something vulgar and coarse, which is also impossible to ignore." Stendhal's analogy highlights the challenge for a creative writer intent on exploring overtly political issues: how to avoid being ideologically dogmatic or morally self-righteous; how not to insult the intelligence of the reader, regardless of their political beliefs.
This presentation will consider the creative strategies used in Susan's political novel The Art of Persuasion in order avoid those pitfalls: the use of the romance genre to explore love as moral concept in our hyper-sexualised culture; and the use of wit or intelligent humour to raise questions about the crucial political issues of asylum seekers and climate change. Susan will pay particular attention to her novel's allusions to the fiction of Jane Austen, and its adherence to the Horatian dictum that writing should both delight and instruct. Her novel The Art of Persuasion aims to give readers aesthetic delight – the pleasures of language and story – in order to encourage reflection on the issues that matter to me as a writer and a member of civil society.
Dr Susan Midalia has studied at Cambridge University and the University of Western Australia, where she completed a PhD in contemporary Australian women's fiction. She has published in national and international literary journals, and taught in secondary and tertiary institutions for many years. Since becoming a full-time writer in 2006, she has published three collections of short stories, all of them shortlisted for major national literary awards: A History of the Beanbag (2007), An Unknown Sky (2012), and Feet to the Stars (2015). Her debut novel The Art of Persuasion was published in 2018, and her second novel has recently been accepted for publication.
Tuesday, 11th June 2019
Doors open 7:00pm - Talk commences at 7:30pm
Cost: $5 donation (Free for Friends of the Library Members)
Venue: UWA - Reid Library Ground Floor, Hemsley Suite
RSVP:
Kathryn Maingard – [email protected] or 08 6488 2356
https://www.eventbrite.com.au/e/politics-and-the-novel-tickets-62182092312
Book cover image courtesy Fremantle Press.
Media references
University Library +61 8 6488 7425
Tags
Groups

University Library