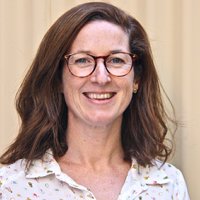 Wednesday, 29 May 2019
As a geneticist at the Centre for Genetic Origins of Health and Disease, Nina McCarthy has devoted much of her working life to combating psychiatric illnesses.
Now, through the Write Smarter: Feel Better program, she's hoping to improve mental health outcomes among UWA PhD students.
Write Smarter: Feel Better connects postgraduate students through regular monthly writing groups, which incorporate facilitated discussions about common research challenges.
"I think that PhD students are quite a vulnerable group – writing a PhD can be a very stressful, challenging and isolating experience at times," Nina says.
"PhD students have a significantly higher risk of developing anxiety or depression during their studies. The Cooperative Research Centre for Mental Health developed the program, and when they asked if I'd be interested in running it here, I jumped at the opportunity.
"I was very fortunate to have great peer support during my own PhD in Ireland. This support really helped me to get through the low points and celebrate the successes, and hopefully Write Smarter: Feel Better will help more PhD students to establish networks like I had."
While Nina fell into the field of genetics – she 'literally stuck a pin in a list of courses' – she soon fell in love with the possibilities it presented. Currently, she's investigating why some features of psychiatric illness are common across diagnoses, and why some are specific to a single illness.
"We're using genetics to see if there's a biological reason for these overlaps between psychiatric illnesses," she explains.
"Eventually, we hope to better characterise psychiatric illnesses based on their biological underpinnings, which will enable a more personalised approach to treatment."
One of Nina's biggest inspirations has been mental health advocate Susie Hincks from Meeting for Minds.
"Susie has lived experience of mental illness and comes to our research meetings to add a patient perspective," Nina says.
"She's a very strong, honest and insightful person and she often has a fresh take on what we do. Her positivity and enthusiasm really inspire me and help to keep me going when I'm having a bad week."
When she's not busy researching, you'll find Nina volunteering at St Bartholomew's House.
"I feel particularly strongly about supporting people who are homeless. It always strikes me how easily it happens – the saying 'there but for the grace of God go I' pops into my head a lot," she says.
"I've been involved in a number of different programs at St Bart's, but my favourite aspect of volunteering has been the social engagement with clients. This can involve a coffee, an outing, a game of backgammon or just a quick chat every now and then.
"Often when people become homeless, social networks and support have broken down, and it can be a very lonely time. I've made some good friends among the clients at St Bart's and they often help me to keep things in perspective and not sweat the small stuff."
If you'd like more information about Write Smarter: Feel Better , or if you're a PhD student and want to join a group or become a facilitator, you can contact Nina or RPH-based facilitator Dilukshi Perera .
Students and staff can access free and confidential counselling through the University's counselling service ​.
Media references
Verity Chia (Corporate Communications) +61 8 6488 1346
Tags
Channels

Research — Teaching and Learning

Groups

UWA Forward