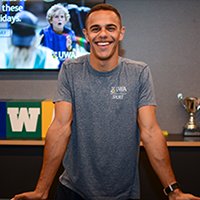 Wednesday, 22 May 2019
Ben McGuire may be a rising star at East Perth Football Club, but the talented athlete has his feet planted firmly on the ground.
The 2019 WA Trainee of the Year nominee and UWA Sport Customer Service Officer drew inspiration from his mother and grandmother while growing up.
"My mum is a school teacher and my nan raised 11 kids by herself. They've always worked very hard and taught me to do the same," he says.
"I hated school for a long time. It wasn't until I started at Trinity College, which offered a lot of freedom and different programs, that I started to work hard in the classroom."
Spending three weeks volunteering with homeless people and disadvantaged children in Broome during 2017 only made him more determined to make the most of every opportunity.
"My time in Broome really opened my eyes to what we have in Perth – even simple things like a bed and food. I thought: 'Far out, I have a really good life compared to other people,'" he says.
Last year, he was awarded an Indigenous Sport and Recreation Traineeship through the Wirrpanda Foundation.
As part of the traineeship, he combined part-time study for a Certificate III in Sport and Recreation with full-time work at UWA Sport. Recently, he was promoted to Customer Service Officer, where he manages casual staff and looks after customer service policies and procedures.
"It's been great to learn about the sport and recreation industry from the other side. At UWA Sport, I've seen the hard work that goes into arranging travel or helping an athlete perform at their best. There are a lot of Excel spreadsheets!" he says.
"Last year, we had 120 UWA students who were also elite athletes. They were competing at state or national level, or playing in the AFL or NBL or for Perth Glory. We help them with training facilities, travel, and making sure they can sit exams or submit their assignments.
"My mentor during the traineeship was Chance Bateman from the West Coast Eagles. He was like a mate – we spoke about life and he helped me enjoy work, and gave me tips on things like how to communicate via email or phone at work.
"Giving young Indigenous people like me opportunities to excel in a degree or traineeship is so important.
"There aren't many opportunities around Australia. If you're an Indigenous student, some people think you're the only Indigenous person who's doing good in the world or who's working hard.
"Creating more training opportunities can change how people view Indigenous people.
"I've got a lot of responsibility because I'm the face of UWA Sport. I'm really proud of that and I want to set a good standard for myself and my team.
"I'm thankful for the opportunities I've been given and want to make the most of them."
Media references
Louis Humberstone (UWA Sport) +61 8 6488 4309

Verity Chia (UWA Corporate Communications) +61 8 6488 1346
Tags
Channels

Sport

Groups

UWA Forward