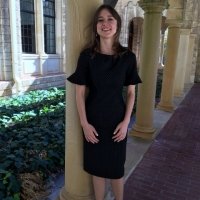 Wednesday, 22 May 2019
A third-year Law student with a passion for helping others has been awarded this year's Ciara Glennon Memorial Law Scholarship.

Former WA Chief Justice Wayne Martin today presented Tayu Wilker, 28, of Como, with the scholarship at The University of Western Australia.

Tayu completed a Bachelor of Commerce at UWA in 2012 and is now undertaking the Juris Doctor, a postgraduate law degree, as well as working as a tutor in the Law School. The 2008 dux of Ocean Reef Senior High School, Tayu has supported herself throughout her studies at UWA with a number of jobs including barista, cafe supervisor and yoga instructor.

Tayu has also worked as a paralegal at Jackson McDonald in the legal technology support team, and as a volunteer for several organisations, including Blackstone Society (UWA's law student body), Piddington Society, Oak Tree Foundation and WA Department of Communities.

The Ciara Glennon Memorial Scholarship was established in 1998 with the support of the Glennon family. It is sponsored by Ashurst (formerly Blake Dawson), the law firm where Ms Glennon worked.

It is awarded annually to a full-time student from UWA's Law School who needs financial help to continue studying, makes a recognisable contribution to the community, demonstrates an active interest in an area outside the practice of law and shows a balanced approach to life and concern for others.

Tayu said the scholarship would greatly ease her financial hardship as a full-time student supporting herself, and provide her with some measure of security.

"I feel honoured and privileged to be the 21st recipient of the Ciara Glennon Memorial Scholarship, a scholarship that celebrates Ciara's spirit and greatly assists law students such as me," she said.

"Together the Glennons, Ashurst and UWA Law School have significantly impacted the lives of many law students. More specifically they have significantly impacted my life. I will aspire to bring good into this world in equal measures."

UWA Senior Deputy Vice-Chancellor Professor Simon Biggs said Tayu was a worthy recipient who demonstrated many of the qualities the scholarship embodied.

"Tayu has managed to hold down a number of part-time jobs as well as volunteering to help others, while continuing to achieve excellent results in her law studies," Professor Biggs said. "She has also been a volunteer mentor with the Department of Communities since 2018, working one-on-one with a young person in foster care."

Past winners of the Ciara Glennon Scholarship include 2003 Rhodes Scholar Ben Gauntlett and 2010 Rhodes Scholar at Large Jessica Panegyres.
Media references
Simone Hewett (UWA Media & PR Adviser)                                                              08 6488 7975
Tags
Channels

Alumni — Awards and Prizes — Media Statements — Students — University News

Groups

Faculty of Arts, Business, Law and Education — Law