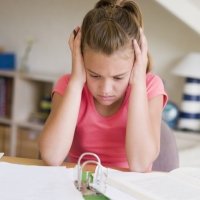 Monday, 20 May 2019
A national survey led by The University of Western Australia has found that mental health disorders affected one in seven students during the previous 12 months, with ADHD and anxiety cited as the most common disorders.

The study, led by Associate Professor David Lawrence, Professor Vaille Dawson and Professor Stephen Houghton from The University of Western Australia's Graduate School of Education, with Michael Sawyer from the University of Adelaide and senior researcher Ben Goodsell, was published in the Australian Journal of Education .

The research team analysed school attendance data from Young Minds Matter : the second Australian Child and Adolescent Survey of Mental Health and Wellbeing and found that students in Years 1-6 with a mental disorder missed an average 12 days per year compared to eight days per year for students without a mental disorder.

In Years 7-10, students with a mental disorder missed an average 23 days per year compared to 11 days per year, while students in Years 11-12 with a mental disorder missed an average of 26 days per year compared to 12 days per year.

Lead researcher Associate Professor David Lawrence said previous research had revealed that absences of this magnitude – an average of five weeks during the course of a school year – were substantial and likely to have a negative impact on student learning and academic achievement.

"Without strategies in place to catch up on school work and missed learning opportunities, significant absences like this are likely to place students' academic achievement at risk, even without considering the other impacts mental health disorders may have on students' learning," Associate Professor Lawrence said.

Mental disorders accounted for 17 per cent of days absent from school in Years 7-12. Similar patterns of absence were found for anxiety disorders, depression and ADHD.

"While absences from school are just one aspect of the impact poor mental health can have on students, these findings highlight the substantial impact that mental health disorders have on schooling," he said.

"To date, school attendance strategies have focused on identifying truancy and school refusal behaviour. Expanding this focus to also consider the impact that anxiety and depressive disorders can have on attendance and participation in schooling is warranted."

Associate Professor Lawrence said early identification and appropriate management of mental health disorders may help to improve general school attendance and academic outcomes. Parents, carers and school staff also played a crucial role in thi s process.
Media references
Associate Professor David Lawrence (UWA Graduate School of Education)               (08) 6488 3017
Simone Hewett (UWA Media and PR Adviser)                                                         (08) 6488 7975
Tags
Channels

Media Statements — Research — University News

Groups

Graduate School of Education