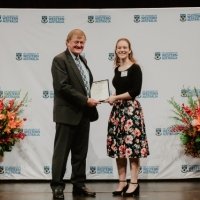 Tuesday, 14 May 2019
The Convocation Undergraduate Prize in Bachelor of Arts has been awarded to Ashlynne Hendry who completed her Bachelor of Arts degree majoring in Linguistics and Anthropology, and Sociology at The University of Western Australia in 2018.
Students awarded this new Convocation prize have the highest Weighted Average Mark (WAM) with units across semesters one and two of their final year.
Ashlynne, who took as many different language classes as she could fit in to her electives – studying some Indonesian, Spanish and Latin – is currently undertaking a Masters of Divinity at Trinity Theological College in Perth, with a particular interest in addressing the global issue of over 2000 languages not having a Bible translation.
"I came to UWA to learn and grow as a learner," Ashlynne said, in a response on behalf of all the award recipients at the Arts Awards night on 2 May.
"We all know that academic credentials have a place, but my focus has always been on making the absolute most of opportunities to think new thoughts and gain new skills."
She said that in her time at UWA there have been plentiful opportunities and encouragements to aim high, by digging deep.
"Some people learn by quietly listening – others by continually questioning. I fit the latter, and yet, I cannot recall a single instance of eye rolling, or of a pretence that my hand in the air couldn't be seen, or that my allocation of questions in a tutorial had been exceeded. My questions were respected. My opportunity and desire to learn and grow has been respected."
Ashlynne said UWA is doing a fine job of building upon – rather than just resting on – its long and proud history of excellence at every level.
Warden of Convocation, Dr Doug McGhie, who presented Ashlynne with her award, congratulated her on her truly outstanding achievement.
"I am delighted that such a deserving candidate has received the Convocation Undergraduate Prize in Bachelor of Arts," Dr McGhie said.
"Convocation provides a number of awards each year to encourage students like Ashlynne to aim for excellence.
"All funds for these awards are donated by graduates, many of whom have benefited from similar awards during their time as students at UWA."
Media references
Facts
The membership of Convocation comprises all 140,000 graduates of UWA
As a community and network of graduates, Convocation forms the electorate for elections of members to the UWA Senate and the Council of Convocation
Further information on Convocation is available at www.convocation.uwa.edu.au
Tags
Channels

Alumni — Arts and Culture — Awards and Prizes — International — Regional — Students

Groups

Convocation Conversations