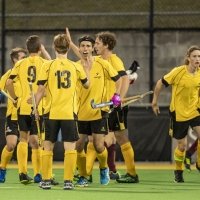 Tuesday, 14 May 2019
Hockey WA has announced the U21 Men's and Women's squads for 2019, including several players from UWA.
Trials for selection took place in early May, with the final team to be selected by the end of the month.
The women's squad features Jessica Butterworth, Britney and Maddie DeSilva, Sara Foster, Phillipa Morgan, and Matilda Nelson all from UWA.
Meanwhile goalkeeper and UWA student athlete Christian Starkie has been selected for the Men's team.
The athletes chosen in the U21 Squads will have the opportunity to play against the Singapore national teams when they visit Perth in mid-May.
The teams will also travel to Lismore, NSW, to compete in the 2019 U21 National Championships during July.
Media references
Louis Humberstone
UWA Sport Marketing, Communication, and Events Coordinator
6488 4309
Tags
Groups

UWA Sport