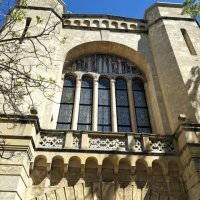 Friday, 10 May 2019
The University of Western Australia has welcomed the allocation of research and education funding announced in the 2019 WA State Budget.
The State Government has allocated $10 million over ten years to the LNG Futures Facility. UWA will lead the development of the LNG Futures Facility, which will include a world-first microscale Liquefied Natural Gas plant for research and education.
The plant will have the capacity to produce up to 10 tonnes of LNG per day and will be used by energy companies, contractors, service providers and small-to-medium businesses to test and refine new technologies. It will also enable new levels of education and training, helping to future-proof Australia's future workforce.
The facility, currently being designed by an industry-led initiative including UWA, Chevron, Shell, Hyundai Heavy Industries and National Energy Resources Australia, positions WA as a global leader in the development and testing of new technology and processes, with the potential to create up to 1,400 jobs.
The 2019 Budget also sees an additional $52 million for the Future Health Research and Innovation Fund, $4.2 million to implement the Study Perth International Education Plan, plus $10 million to secure more international direct flights to Perth and $12 million for international tourism destination marketing.
Further, the 2019 Budget allocates $10.5 million to co-investment in the National Collaborative Research Infrastructure Scheme (NCRIS). This will support major collaborative research infrastructure and is expected to bring $50 million worth of research support into the State.
The NCRIS will support Microscopy Australia, National Imaging Facility, Australian National Fabrication Facility, Integrated Marine Observing System, Terrestrial Ecosystem Research Network and Bioplatforms Australia.
UWA Vice-Chancellor Professor Dawn Freshwater said the Budget allocations in the areas of research and education reflected the State Government's investment into the wider community.
"Knowledge is a precious commodity and the best asset a society can have," Professor Freshwater said.
"A London Economics report commissioned in 2018 showed that in dollar terms, investments in research provide a 10-fold return.
"This is an important recognition that funding research and education is a direct and tangible investment into the WA community that will yield a positive result for the State in the coming years."
Media references
David Stacey (UWA Media Manager) 08 6488 3229 / 0432 637 716
Tags
Channels

Media Statements — University News

Groups

Centre for Microscopy, Characterisation and Analysis