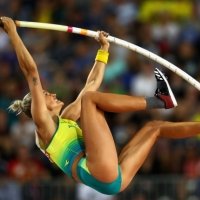 Tuesday, 7 May 2019
UWA Athletics Club pole vaulting duo Kurtis Marschall and Liz Parnova have both earned selection for the 2019 IAAF Athletics World Championships in Doha after surpassing the automatic qualification standard during the domestic season.
In its first visit to the Middle East, IAAF World Athletics Championships Doha 2019 will be the biggest sporting event the region has ever hosted, with more than 2000 athletes from over 200 countries competing.
After winning gold at the 2018 Commonwealth Games, Kurtis Marschall has been on a path of constant success.
The student athlete moved to Western Australia, taking up study at UWA and making use of the world-class facilities at WAIS under the experienced eye of new coach Alex Parnov.
Kurtis surpassed the men's qualifying height of 5.71m numerous times over the past six months, with an outstanding new personal best jump of 5.87m at the All Star Perche in France in February.
Meanwhile, Liz Parnova has made a shift back into competitive gears after a frustrating injury period kept her on the sidelines.
Liz earned her selection with an automatic qualifying jump of 4.56m off 12 steps at a club meet in January.
At just 24-years-old, the selection result represents a new stage in her already vast athletics career.
With the Oceania Area Championships held in June, further athletes are expected to be called up for the Australian team for Doha.
Media references
Louis Humberstone
UWA Sport Marketing, Communication, and Events Coordinator
6488 4309
Tags
Channels

Sport

Groups

UWA Sport