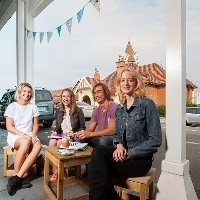 Tuesday, 7 May 2019
The University of Western Australia's regional campus in Albany celebrates its twentieth anniversary this year.

For those 20 years, the University has been supporting access to and participation in educational opportunities for people who are often the first in their family to access tertiary education and for those who otherwise might not have the opportunity to be educated. And for those 20 years, staff at the UWA Albany campus have been passionately employed in working towards minimising the inhibiting factors associated with geographical location and other disadvantages that result in underrepresentation of regional people in higher education.
Heart and head have worked together to create greater access for regional students; greater pastoral support to promote retention; more relief from financial barriers through the provision of scholarships and more access to learning opportunities. The campus also works in partnership with the community in an attempt to address the cultural and social issues of under-achievement at school and low aspirations.

Despite the disadvantages, we know there are many advantages to residing and studying in regional towns. Our region has a sense of community that allows for easy connections with business and industry partners. Students at UWA's Albany campus enjoy the benefit of relevant practical opportunities, real-world project field experiences, small class sizes and tailored support services.

Our undergraduate students achieve highly on the measure of Distinctions and High Distinctions. Data show that in recent years they have, in fact, achieved more highly on this measure, across Arts and Science, than their metropolitan counterparts.

We know that most teaching staff on the Crawley campus are working with us to ensure an equity of opportunity and experience for those of our UWA students who can't participate in face-to-face experiences on the Crawley Campus. We are truly grateful for that insight and understanding.

On the whole, our regional students are very happy and satisfied UWA learners; however, I am sure we would all agree this does not mean it is okay for them to miss out on a quiz that is worth (only) 5% because a lecturer forgot to make it available for the remote students, or that our students shouldn't see the lecturer's written notes because the lecturer prefers to use a whiteboard over a visualiser. There are enough challenges for regional students. They should not be subjected, in any way, to a poorer quality of experience because they are not in the room.

We know that no-one would disagree that every enrolled UWA student, regardless of where they reside or what their circumstances, deserves the same student and learning experience that we have all worked so hard to develop.

Is it not, therefore, incumbent on us all to share the responsibility of utilising the flipped and online teaching methodologies and the other resources available to us and to be mindful of new ways of creating 'classroom' to ensure that ALL enrolled UWA students have an equally high-quality learning and student experience? Sometimes it's just the little things that make a big difference.

Perhaps it's just a case that out-of-sight really is out-of-mind. Don't think we are complaining though, because there is intelligent, resilient life in the regions and we cope!

We know that although our students face a number of structural challenges in accessing, participating and completing higher education, including geographical location, financial constraints, emotional factors and sociocultural incongruity, we will succeed!


By Jennifer O'Neil
Director, UWA Albany Centre
Tags
Channels

Regional

Groups

Education Quarterly — The Albany Centre