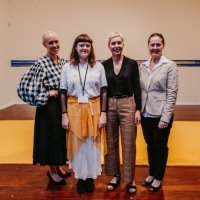 Tuesday, 7 May 2019
Monash University fine arts graduate Anita Cummins has been awarded The University of Western Australia 2019 Dr Harold Schenberg Visual Art Fellowship, which is now worth $50,000.

The award was announced at the opening of Hatched: National Graduate Exhibition at PICA.

Anita's works were presented as an installation based on Cheezels. Feelings is a floor installation from 500 packets of ground Cheezels and I got out of bed today is a collage of Cheezel packets, mimicking a seismographic reading of emotional states.

The Schenberg Fellowship has become a major event on the art prize calendar and is chosen by a panel of judges from the artists featured in the 'Hatched National Graduate Show' held each year at the Perth Institute of Contemporary Arts (PICA).

When respected Western Australian dermatologist and philanthropist Dr Harold Schenberg died in June 2000, he left a bequest to The University of Western Australia to create a prize in music and the visual arts to enable emerging Australian artists to develop their professional careers.

Since 2010, his generosity has made a significant difference to the lives of 10 emerging visual artists and eight young musicians, all of whom have been awarded the prestigious Dr Harold Schenberg Fellowship.

Inspired by his own experiences of studying in Melbourne, Sydney, London and New York, Dr Schenberg was determined to offer that same gift of travel to others, while giving them the freedom to pursue their goals as creative practitioners.
The fellowship allows the recipient to invest in their practice through further study, by facilitating the development of new work, or simply to cover life expenses to enable more focused activity on their practice.

Since 2017, with the contribution of Mikala Tai, Director of Sydney's 4A Centre for Contemporary Asian Art (who took part in the 2017 judging panel), the Schenberg Fellowship now includes professional mentoring.

In 2019, Alison Kubler, Editor of Vault magazine, has offered to carry on that mentoring role, in addition to being part of the judging panel.

To make a donation or bequeath to UWA contact Elizabeth Terracini, Development Manager, Bequests, on 6488 8537 or [email protected]
Media references
Caine Chennatt (UWA Cultural Precinct)                                                           08 6488 7477
Simone Hewett (UWA Media & PR Adviser)                                                  08 6488 7975
Tags
Channels

Arts and Culture — Awards and Prizes — Events — Media Statements — University News

Groups

Cultural Precinct