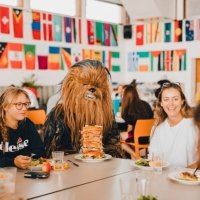 Monday, 6 May 2019
The University of Western Australia Star Wars Day video released on international Star Wars Day (May 4) is proving to be a big hit.
Featuring UWA students, staff and Star Wars fans in the community, it follows on from the success of the first UWA Star Wars video produced last year. It is set to outperform it with more than 285,000 views across social media channels and engagement from thousands of people internationally.
Close to 70 members of the UWA student orchestra from the Conservatorium of Music played a key role in the production performing six pieces of music from the Star Wars soundtrack. They were led by the UWA Head of Music, Professor Alan Lourens.
The video featured UWA's stunning grounds and facilities and was produced entirely in house by UWA's Brand, Marketing and Recruitment team.
Community members volunteered their time to play Star Wars characters Han Solo, Princess Leia, C3PO, R2D2, Stormtrooper and Rey .The person who played the character, Rey, is a recent graduate, the Stormtrooper a current student, and a mystery staff member played the roles of Chewbacca and Darth Vader.
The video, May the 4th be With You, can be viewed here
Media references
Jess Reid (UWA Media and Public Relations Adviser) 08 6488 6876
Tags
Channels

International — Media Statements — Students — Teaching and Learning — University News