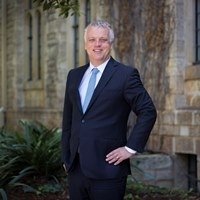 Monday, 6 May 2019
This year has already been an exciting one, with the launch of UWA's Vision 2030 in early April. Our vision is to create the next generation of global leaders through experience-rich education and world-leading, trustworthy research . An 'experience-rich education' happens both inside and outside of the classroom, and this issue of Education Quarterly takes student experience as its focus.
In our first article, Jennifer O 'Neil (Director, Albany Centre) discusses the unique challenges and successes of students living and studying in the regions. We also hear from Lewis Weeda, a UWA student that I had the pleasure of hearing speak at the SCASA Exhibition and Awards ceremony. Lewis reflects on his involvement in wide and varied aspects of campus life at UWA, including being active on club committees, studying overseas, and working with an Indigenous community outside Derby.
In this issue we also learn about the UWA Careers and Employability program, which supports students in binding employability skills and networks and is formally recognised on the co-curricular transcript upon graduation; we read about the six week orientation program called CONNECT that is supporting new students in their transition to study; we unpack the Rio Tinto student Engagement Program and the University Hall PD program; and get an update on WIL activity at UWA.

Finally, this issue includes a summary of discussions at the recently held forums on 'The Future of Schooling Policy' and 'The Future of Work in WA", and the outcomes of a national survey into Australian University Libraries.
As the year unfolds, I look forward to working with all of you as we continue to provide a high quality, experience-rich education to our students, preparing them to be global leaders in their fields.
Tags
Groups

Education Quarterly