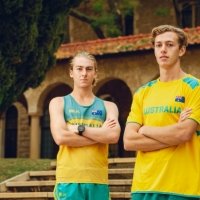 Monday, 6 May 2019
Ten of the thirteen Open Team West Australian athletes set to compete at the 2019 Oceania Area Championships are UWA Athletics Club athletes.
Hurdler Brianna Beahan has been selected for Open Women's 100m Hurdles after finishing second at the Australian Athletics Championships with a season's best of 13.11.
Bernadette Williams will represent Australia in the 1500m, after finishing with a bronze medal and an outstanding personal best at the Australian Championships.
Pole vault trio Angus Armstrong, Declan Carruthers, and Stephen Clough are all in the team, with strong personal bests of 5.52m, 5.60m and 5.45m respectively in the lead up to the Championships.
UWA Athletics will also be represented in the Women's pole vault, with Commonwealth Games bronze medallist Nina Kennedy and Liz Parnov both been selected to compete, while rising talent Lauren Hyde- Cooling has been selected in the U-20 team.
Brittany Pettitt and student athlete Grant Szalek have both been selected after their Australian Championships bronze medals in the Women's and Men's High Jump respectively.
Fellow student athlete Declan Tingay has been selected to compete in the Open Men's 10,000m Race Walk. Declan holds the Under 20 Men's 10,000m record, boasting a time of 40:49.72.
The 2019 Oceania Area Championships will be held in Townsville, Australia from 25-28 June 2019, including the U18, U20 and Open age groups.
Media references
Louis Humberstone
UWA Sport Marketing, Communication and Events Coordinator
6488 4309
Tags
Channels

Sport

Groups

UWA Sport