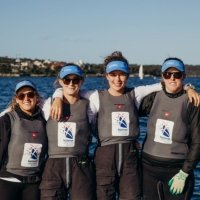 Wednesday, 1 May 2019
After finishing top of the women's division in the Oceania Sailing Champions League Final, the Western Australian team Shelley White, Ella Clark, Chelsea Hall, and student athlete Hayley Clark will now travel to Copenhagen to compete in the international final of the Women's Champions League.
The WA team sailed for Royal Freshwater Bay Yacht Club, with Hayley saying before the race:
"We are all really excited to have an opportunity to race with each other, as competitive sailors in a competitive fleet. We all know each other either through coaching, working together or being training partners in the Australian Sailing Squad."
Under captain Shelley White the team dominated the women's category over three days of racing on Sydney Harbour.
The victory earns the Perth crew a wildcard spot at the Copenhagen women's event to be held later this year.
With the separate women's category plus entry requirement for all open teams to have at least one female aboard there were more women competing at the Oceania league's inaugural event, with Hayley's team finishing seventh overall in the Open category.
Media references
Louis Humberstone
UWA Sport Marketing, Communication and Events Coordinator
6488 4309
Tags
Channels

Sport

Groups

UWA Sport