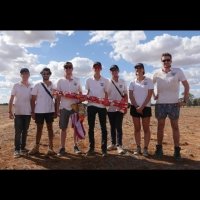 Monday, 29 April 2019
On Saturday 20 April, in a remote field 1 hour north of Goondiwindi in southern Queensland, UWA Aerospace's custom-built rocket Finley left the ground for the final time with a blast of fire and smoke. Peaking at a staggering 9314 feet, WA's only entry in this inaugural national competition rose to 5th place in the 10,000 foot category.
The launch was watched in anticipation by the UWA Aerospace team, a group of 13 engineering students who have committed over 2000 hours of hard work on this year-long project. After major last minute aerodynamic and mechanical failures, the final result was a testament to the team's resilience, ingenuity, and adaptability.
"I am quite proud given that we have been competing among universities with superior financial, technical and team resources," said Anthony Poletto, Co-Project Manager.
Joel Trapper, Aeronautical Lead, commended the team's use of engineering skills to recover from a problematic test launch on the previous day. "I'm proud of the team's ability to overcome adversity throughout the competition. So many things went wrong but we took it by the chin and turned the tables to make sure we were on the launch pad with a functioning rocket."
Besides the drama of launch day and the glory of a place on the leader board, the Australian University Rocket Competition has given the UWA engineering students many other opportunities to learn and grow.
"It was a fantastic opportunity to make new contacts with other students and industry professionals that are passionate about aerospace," said Scott Patterson, Aerostructural Engineer.
Sachio Ingrilli, Aerostructures Guru, stressed the vital skills project management learned along the way. "Rocket building gatherings go late into the evening...the competition has involved frequent reports and sometimes day-long writing sessions. We are all university students and we all have assignments, jobs, classes, tests, partners, families and hobbies. Since we spend so much time designing these rockets, maintaining our studies has been a challenge."
High powered model rocketry may be rocket science after all with a steep learning curve, but it seems the hard work, stress, and sacrifice was worth it to see the rocket achieve such an excellent result.
"The launch of a rocket you have invested so much time and energy into produces a mix of emotions like no other experience," said Anthony. "You are tense and stressed, because once that motor ignites, you no longer have any control over what happens in the next three minutes. But at the same time, it is so liberating to see it soar into the sky and suddenly all the worries briefly disappear."
The worries might be over for some time, as UWA Aerospace will skip the competition next year, launching next in 2021. However, the team still has plenty planned for the interim, including ambitious rocket builds, and collaborations with local schools, UWA Aspire, and UWA Girls in Engineering in order to inspire more young people into engineering and aerospace careers.
"We plan to consolidate our team size and pursue rocket projects to help us build up to the larger 30,000 foot category," said Anthony. "We will use this time to further build relationships with local industry and the community to foster support and awareness in aerospace and space. The students of today will be part of a frontier that normalises space travel and it is crucial that WA is part of that journey."
You can listen to a podcast by UWA Aerospace here and find out more about the AURC here .
Media references
Tina Zhang (UWA Faculty of Engineering Mathematical Sciences) (+61 8) 6488 1733
Tags
Channels

Students

Groups

Faculty of Engineering and Mathematical Sciences