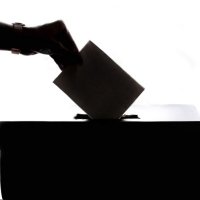 Monday, 29 April 2019
In her interim account of the recent Indonesian elections, Ella S. Prihatini points to significant levels of volatility in parties' vote share, important breakthroughs by some new parties and the unprecedented fatigue created by a single-day electoral event. Shamit Saggar
---
Indonesia votes: the biggest winners and the unprecedented fatigue
Ella S. Prihatini
The world's third-largest democracy, Indonesia, has experimented with a single-day most complex electoral system in modern history by electing president and vice president, along with more than 20,000 representatives for the national and local parliaments. On 17 April 2019, 193 million eligible voters were expected to cast their votes at more than 800,000 polling stations.
As many as 16 political parties competed, including four new parties – the Garuda Party, the Berkarya Party, the Indonesian Unity Party (Perindo), and the Indonesian Solidarity Party (PSI). According to various survey institutions ahead of voting day, these new parties will be struggling to pass the parliamentary threshold of four per cent. If parties don't pass the threshold, equivalent to winning at least five million votes, they would not be able to get a seat in Parliament.
However, the 2019 elections have displayed more interesting dynamics which signal the urgency to revisit the approach for the long run. The first part deals with the results based on the quick count reports published by numerous pollsters, while the second part is associated with a rather dark and sad fact as these elections have claimed over 250 lives of polling station workers due to exhaustion.
The winners
While Prabowo might lose his third presidential bid, his party Gerindra took Golkar's runner-up position in the previous elections. Gerindra secured around 12-13 per cent of the national votes, while voting for Golkar, the ruling party during Soeharto's era, will be weaker by three per cent.
The biggest growth was achieved by the Prosperous Justice Party (PKS). This opposition party expected to pocket two to three per cent more votes than the 2014 elections. This makes the Islam-based party in a safe zone with around 8.6 to 9.6 per cent of the national vote. The significant progress has been primarily influenced by the strategy applied in targeting first-time voters.
Meanwhile, the Democratic Party, founded by former president Susilo Bambang Yudhoyono, continues to suffer vote losses. The party's prestige seems to be fading along with many blunders in its campaign strategy. After winning in 2009 with 20.85 per cent, their votes fell to 10.19 per cent in 2014 and continued to shrink to around eight per cent this year.
Quick count reports suggest new parties are also experiencing significant achievements, despite their failure in meeting the parliamentary threshold. Perindo, founded by one of the media tycoons, Harry Tanoesoedibjo, managed to collect 2.84 per cent of the votes, while the Berkarya Party pioneered by Soeharto's children also won 2.14 per cent of the national vote.
PSI, chaired by former TV news anchor Grace Natalie, had promoted itself aggressively via social media platforms as the millennials' party and only stood at around 2.03 per cent. Accumulatively, these three new parties garnered 7.01 per cent of the votes. Where is this share coming from? The answer lies in the following graph presenting the vote share trend of Indonesia's political parties since 2004 .
Fig. 1 Vote share trend of Indonesia's political parties
Coalition parties under Jokowi's administration suffered from big losses in this year's elections. Golkar's votes, for example, has tumbled more than three per cent and stood at 11.64 per cent. Support for PPP has also dropped by two per cent, and a worse performance was experienced by Hanura – a party founded by former military chief Wiranto (now serving as Coordinating Minister for Politics, Law, and Security) – where votes were wiped out by 3.62 per cent. PKB has also been stagnant with a 0.05 per cent loss.
Interestingly, the only two ruling parties with positive vote growth are TV-backed NasDem Party (1.12 per cent) and PDI-P (0.54 per cent). As a dominant party which nominates Jokowi for the presidential election, PDI-P has failed to increase its base from the previous elections in 2014. This indicates its electoral failures in garnering more support despite being in power.
Leadership conflict and corruption scandals seemed to have negatively influenced parties' electability. Hanura has been controlled by Osman Sapta Odang (OSO) who is also the Speaker of the DPD (the Regional Representative Council) and yet 16 MPs decided to run with different parties. Golkar, PDI-P and PPP have been hit by numerous scandals involving top party elites including the chairmen.
On the other hand, Berkarya Party which deemed by its founder Tommy Soeharto as " the real Golkar " had managed to revive the nostalgic collective memories about the New Order regime which was lasted for more than 30 years. Perindo might have taken the spill over from Hanura, and PSI is possibly benefiting from the losses suffered by Demokrat.
The unprecedented fatigue
Aside from the electoral dynamics which highlight the role of parties' internal conflict and corruption scandals in shaping the votes, this year's elections have claimed the lives of at least 225 polling station workers (known as KPPS). In addition to that, 33 people who worked for the Elections Supervisory Agency (Bawaslu) and 16 police personnel also died due to exhaustion. Another 1,470 workers are currently sick also from fatigue and extreme tiredness.
Those who are working as KPPS are required to work for five consecutive days with payment of merely 550,000 rupiahs or equals to AUD$55.40 before tax. One said this fee is half what they earned in the 2014 presidential election and yet the workload is far harder.
A week prior to the election, KPPS must start distributing the invitations to registered voters. KPPS workers need to set up the polling station with a limited budget of 1.4 million rupiahs or AUD$141 and disassemble the whole station the following day.
On the day of the election, they must handwrite the list of voters—which is normally around 100 to 300 per polling station – in at least five copies. They also need to ensure all forms are ready or they must collect them from the nearest sub-district office.
The hardest part, and the most dramatic, is the vote counting without stopping because the Electoral Commission (KPU) disapproves such practice. Hence some workers worked for more than 20 hours non-stop during the election day, while some did not sleep for days . And those who died due to exhaustion also reported suffering from anxiety and stress if they would need to redo the election for whatever reason.
The scale of these casualties is an absolute tragedy for Indonesia. We cannot tolerate one death due to exhaustion during the "festival of democracy", let alone 144. These hardworking KPPS persons put literally all their energy and protection into ensuring the rights of the people to vote their leaders were being served. And yet, the single-day elections system has proved to be extremely harmful.
Members of the Indonesian public expressed their condemnation and regret by going to social media platforms such as Twitter. With the hashtag #119fatalityketuakpumundur emerged since yesterday (24 April 2019) afternoon, netizens are demanding for KPU Chairman's resignation.
Fig. 2 The trends of total mentions on Twitter related to electoral fraud. (Source: Drone Emprit Academy)
Other sentiments are also raised from this dissatisfaction with the accountability of the KPU. Electoral fraud has now become a crucial issue and mentioned at a significant volume (see Fig. 2).
The analysis shows that Twitter handles closely associated with Gerindra and supporter of Prabowo's presidential nomination are dominating the conversation about electoral fraud. And as the final vote calculation will only be officially announced on 22 May, it is interesting to keep our eyes on how these dynamics will eventually be resolved.
Tags
Channels

International

Groups

UWA Public Policy Institute