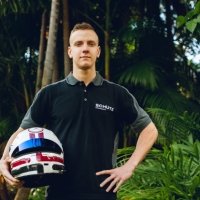 Friday, 26 April 2019
Student athlete Aidan Read is set to make his European debut in Germany this week, after making his mark on the Asian circuit.
The first race of the ADAC GT Masters takes place in Oschersleben, with 62 drivers in total ready to compete.
The Mechanical Engineering student, who continues to balance international competition with his degree at UWA, will be the only Australian driver on the grid.
The GT Masters is a step up in competition for Aidan, and will see him compete across four countries in seven rounds.
"The competition is going to be top level and I'm really interested to see how we go in the field," said Aidan.
"That's what excites me and motivates me the most, is where we can perform and who we can benchmark ourselves against because it'll be strong field.
"I expect it to be very high intensity and very cut throat. I also expect it to be a challenge to learn all new tracks but I think this is all going to be a really good test of my abilities, to compete at a top level in GT3 and to see how far my teammate and I can take our car and where we can place ourselves."
Media references
Louis Humberstone
UWA Sport Marketing, Communication and Events
6488 4309
Tags
Channels

Sport

Groups

UWA Sport