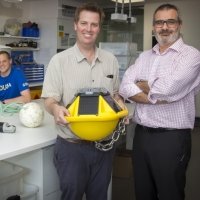 Tuesday, 16 April 2019
The University of Western Australia will be at the forefront of a new era of research into the 'blue economy', following the announcement of Australia's biggest Cooperative Research Centre (CRC).
The Blue Economy CRC, announced in Launceston today by the Minister for Industry, Science and Technology Karen Andrews, is the largest CRC ever awarded, with funding totalling $329 million underpinned by a $70 million cash investment from the Federal Government.
The CRC will be led by the University of Tasmania, with UWA the only Western Australian University on the bid. There are several other universities from Australia and New Zealand, amongst a total of 16 research partners.
As part of the CRC, researchers at UWA's Oceans Institute and Oceans Graduate School will investigate ways to meet growing demand for renewable offshore energy sources with strategic research in aquaculture initiatives, offshore engineering and renewable energy.
The Blue Economy CRC builds on Australia's National Marine Science Plan that has the explicit goal of "driving the development of Australia's blue economy"; a $100 billion annual economic opportunity by 2025 that will allow Australia to meet growing demand for food and energy.
Professor Christophe Gaudin, of UWA's Oceans Graduate School and Director of the Wave Energy Centre, said the Blue Economy CRC will support Australian marine science and transform Australia's blue economy.
"We are very proud to be a part of this ambitious and very significant endeavour," Professor Gaudin said.
"Through our expertise in marine renewable energy and offshore engineering technology and our unique experimental facilities, UWA in collaboration with the University of Tasmania and industry partners will develop sustainable innovations in technology and education that will increase the safety, productivity and reduce the cost of offshore structures to unlock food and energy from the oceans."
The Director of UWA's Oceans Institute, Professor Peter Veth, said the CRC would investigate a new generation of technology including advances in offshore platform sensors, innovative use of Artificial Intelligence, robotics, and automated underwater vehicles, towards greatly enhanced and sustainable offshore food production and renewable energy including hydrogen and ammonium.
"The University of Western Australia has enormous capacity in the ocean sciences across its four Faculties, having recently been ranked as global leading in 11 areas of Oceans-related research by the Australian Research Council. These skills will flow perfectly into this new Cooperative Research Centre for the Blue Economy," Professor Veth said.
UWA Vice-Chancellor Professor Dawn Freshwater said it was significant that the west coast of Australia would be included in the CRC.
"This aligns perfectly with the UWA 2030 vision, advancing the prosperity and welfare of the global community through collaborative engagement in education, research and innovation, global partnerships, and sustainable environments," Professor Freshwater said.
"UWA has a geographic advantage, positioned at the gateway to the Indian Ocean Rim, to play a significant role in marine research that will herald a new era of harnessing the resources of the world's oceans.
"The opportunity to be part of the Blue Economy CRC also offers advantages to our students: practical, real-world educational experiences, and direct pathways for the translation of research into practice. This will result in future-proofing for graduate students, and strong employment prospects into the future."
Media references
Jess Reid (UWA Media and PR Advisor) 08 6488 6876
Tags
Channels

Media Statements — University News

Groups

Oceans Institute — School of Biological Sciences — Science Matters