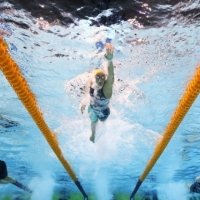 Tuesday, 16 April 2019
The 2019 Australian Swimming Championships in Adelaide proved to be a solid competition from UWA's star swimmers, with a number of podium finishes and new personal bests to be proud of.
On the first night, both Brianna Throssell and student athlete Nic Brown narrowly missed out on a podium spot, finishing fourth in the 100m Free and 100m Fly respectively.
UWA alumni Holly Barratt also swam in the 100m Free, finishing seventh with a six-year personal best.
The first night ended with bronze for UWA West Coast in the 4x100m Mixed Medley relay. The team of Zac Incerti, Alex Milligan, Brianna Throssell, and Jemima Horwood finished just 20 milliseconds behind second placed TSS.
The podium proved elusive for Alex Milligan on the second night, finishing fourth in the 200m breaststroke, in a race that saw Sydney-based swimmer Matthew Wilson break the Australian record.
Brianna Throssell managed to secure silver in the 100m Fly, only bested by current Commonwealth record holder Emma McKeon.
Student athlete Ashton Brinkworth proved to be a surprise feature in the 100m Free final, with his fifth placed effort in 49.40 securing a qualifying time for the 2019 World University Games.
Ashton also returned to the pool for the 50m Fly, finishing sixth ahead of fellow student athlete Nic Brown at eighth.
Individual medley specialist Blair Evans finished third in the 400m IM, with the Commonwealth Games swimmer finishing behind Kaylee McKeown and Calypso Sheridan.
Student athlete Adam Sudlow enjoyed one of his best swims in the 800m Free, with a huge 11 second personal best.
Ashton Brinkworth also enjoyed a new personal best in the 200m Free, finishing fourth with a time of 1.48.77.
The final day proved strong for many UWA swimmers, as Blair Evans claimed bronze in the 200IM, while Holly Barratt won gold in the 50m Fly.
Nicholas Brown was victorious in the 200m Fly, while both Jonte Blake (seventh) and Ashton Brinkworth (fourth) made it to the 50m Free final.
A complete list of results can be found here .
Media references
Louis Humberstone
UWA Sport Marketing, Communication, and Events Coordinator
6488 4309
Tags
Channels

Sport

Groups

UWA Sport