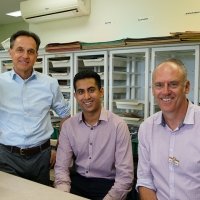 Monday, 15 April 2019
Work Integrated Learning (WIL) activities provide students with the chance to gain industry knowledge, develop work-ready skills and create lasting networks with industry professionals. Jason D'Silva, who is currently completing an Honours degree in Medical Research at UWA, recently undertook a placement at Chisholm Catholic College as part of the Science Consultancy Project.
The Science Consultancy Project (unit code SCIE2206 ) provides students with the opportunity to communicate their passion for Science and to further develop their employability skills through a consultancy placement in a primary or secondary school.
The Science Learning Area at Chisholm Catholic College has been gradually implementing authentic STEM projects that encourage students to use 21st Century skills to solve real-world problems.
The project Jason created asks students to solve an excessive noise problem by finding the combinations of materials that reduce sound levels the most - and in a cost-effective manner.
The students were asked to bring a variety of skills to solve this project: critical thinking skills; problem-solving skills; creative thinking skills; working in groups; real-life application of Science content; use of ICT; and communication skills.
"This is what employers are looking for in the future. They are going to look for people who can look at unfamiliar content, learn it and use it in ways that solve problems," said Paul Shanahan, Head of Science Learning Area at Chisholm Catholic College.
Jason worked closely with Albert Raso, Senior Laboratory Manager, who showed him the integration between Science and other subjects such as Mathematics, Engineering and Technology.
Asked why he selected Chisholm, Jason said: "I chose Chisholm because I was familiar with it and I was really excited to work with my former Pastoral Care Advisor as well as my Physics and Engineering teacher, Mr Shanahan."
Applications for the Science Consultancy Project (unit code SCIE2206) semester 2 are currently open and close on 1 June 2019.
Media references
Dino Spagnoli (UWA School of Molecular Sciences) 08 6488 8681
Chau Ho, OP (Communications and Media, Chisholm Catholic College) 08 9208 2500
Tags
Channels

Science — Students — Teaching and Learning

Groups

Science Matters