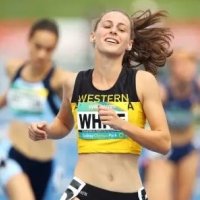 Monday, 15 April 2019
The 2019 Australian Athletics Championships proved to be a strong week of competition for many UWA athletes, with medals, records and qualifiers across a variety of events.
UWA Athletics Club's Jackson Hamilton won the first medal for Team WA on Day 1 of the Championships, and went on to finish the week with a total four gold medals.
Jackson's wins included two new Australian records and gold in the Open Men's Para Discus at just 16.
UWA Athletics pole vaulters battled it out for the men's title, with Angus Armstrong taking gold ahead of Stephen Clough and Declan Carruthers in joint bronze and Kurtis Marschall in fifth place.
In the women's pole vault, Lauren Hyde-Cooling continued her stellar rise, taking silver in both the Under 20 and Open Women's events.
Always a stand-out performer, Ella Pardy  continued to show career-best form as she claimed gold in both the Open Women's 100m Para and Open Women's 200m Para with two new Australian and Oceania records in both events.
Brothers Grant Szalek  and Sean Szalek were both in form in High Jump, with Grant jumping 2.15m for bronze in the Open Men's High Jump and Sean claiming gold in the Under 20 Men's High Jump, before taking to the Open Men's High Jump to finish fifth.
There was also gold for Sophie White, who won both the U18 Women 100m Hurdles and U18 Women 100m, as well as joining the U18 Women 4x100m Relay for silver, and the women's Open Women 4x100m Relay for bronze.
UWA student athlete Katherine Sparrow was also a part of the women's Open Women 4x100m for bronze, as well as also claiming bronze in the Open Women 4x400m Relay alongside fellow student athlete Sarah Hynes.
Elsewhere, student athlete Cruz Hogan finished in fourth place in Javelin, while Chloe Metcalfe finished eighth in her heat.
A full list of results are available here.
Media references
Louis Humberstone
UWA Sport Marketing, Communication and Events Coordinator
6488 4309
Tags
Channels

Sport

Groups

UWA Sport