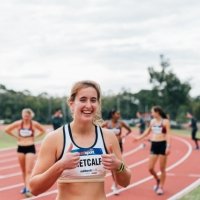 Monday, 15 April 2019
After a busy athletics season, some of Australia's best student athletes have battled it out at the UniSport Australia Nationals Athletics in Sydney.
UWA had five athletes travel for the competition; Annie Leszczynska, Sarah Hynes, Anika Gosling, Chloe Metcalfe, and Jamie Miller, with Keely Waters as Sport Coach Manager.
UWA Athletics Club's Annie Leszczynska won silver on the first day of competition with a 61.23 second run in the 400m Hurdles, just behind Sydney University's Genevieve Cowie, who broke a 35-year-old competition record.
There were also podium finishes for Anika Gosling and Chloe Metcalfe, with Anika taking bronze in Discus, and Chloe taking bronze in Javelin.
Anika also finished fourth in Shot Put, while Chloe finished eighth in both 100m and 200m, after placing third and fourth in her heats respectively.
Sarah Hynes recorded her season best with a time of 59.21 in 400m, before finishing 11th in both 800m and Long Jump.
Jamie Miller returned to competition for the first time in four years after recovering for a number of injuries to finish seventh in his heat in 12.10.
Sydney University were crowned national  champions after presenting the most dominant team at the event.
Media references
Louis Humberstone
UWA Sport Marketing, Communication, and Events Coordinator
6488 4309
Tags
Channels

Sport

Groups

UWA Sport