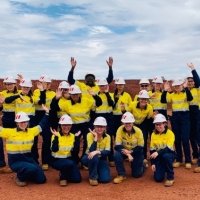 Friday, 12 April 2019
As part of the UWA Girls in Engineering Outreach Program, five bright young females in Years 10 and 11 visited a Rio Tinto mine site to gain an exciting insight into a future career in Science, Technology, Engineering & Mathematics (STEM).
Three girls from Penrhos College and two from Shenton College departed in the early morning of Wednesday 10 April 2019 to fly to Newman. Along with girls from Duncraig Senior High School and Girls Academy, an Indigenous leadership program, the group were led through the Hope Downs 4 mine site by female mentors currently working at Rio Tinto.
"You can't be what you can't see. The Greater Hope Downs site visit was not about channelling students into a career in mining," explained Kathryn Serjeantson, Drill & Blast Superintendent who was instrumental in leading the tour.
"It goes beyond that – it empowers them to think beyond the conventional, towards career choices to which they were previously unaware and equips them for that future path. These young women are the leaders of tomorrow and I think we are in excellent hands."
Students toured the camp to see what FIFO life was really like before heading to site and learning about Rio Tinto's state-of-the-art autonomous project, AutoHaul. After seeing the software behind the automation, the group visited the mechanical workshop and an active mining pit to see the massive autonomous haul trucks in action.
"This was life changing! It really broadened my horizons, I now see what more there is to mining than what I already knew. My parents are both in mining, but I felt I needed to see it for myself, this was a career changing day," said Chloe Allegakoen, student from Shenton College.
"With multiple locations to visit, diverse work spaces to explore and inspirational people meet, the visit was engaging and true eye-opener to the opportunities for women. The overall environment was welcoming, and open to any inquiries from us students. I thank Rio Tinto for this unforgettable experience that will assist me in future career choices," added Tayla Sedgwick, student from Penrhos College.
Students also had the chance to hear from a range of mentors across the industry, including mining engineers, mechatronics engineers, facilities managers, drill and blast operators, emergency services staff, and environmental advisors.
"It was a great day, very insightful. I didn't realise just how many different jobs there are on a mine site and the extent of what is available career wise. I also hadn't realised how many points of entry there are to a career in engineering and mining, which was very reassuring," said Samantha from Shenton College.
Rio Tinto has been the foundation sponsor for the UWA Girls in Engineering program since 2012 to promote female participation in STEM and support female success in the future workforce. The program is also supported by Monadelphous Ltd.
"This was an incredible opportunity for these young women to see engineering outside of the classroom," Girls in Engineering Outreach Coordinator, Madeline Hermawan said. "I'd like to thank the Rio Tinto staff who were essential in making this happen and who continue to volunteer for our program: Alicia Bingham, Kathryn Serjeantson, Katie-Maree Vernon, and Hannah Golding."
Media references
Madeline Hermawan (UWA Faculty of Engineering Mathematical Sciences) (+61 8) 6488 7886
Tags
Channels

Business and Industry — Events — Regional — Students

Groups

Faculty of Engineering and Mathematical Sciences