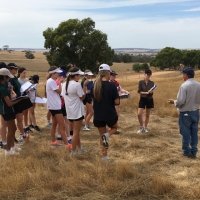 Wednesday, 10 April 2019
Breaking the city-country divide, Year 12 Geography students from Penrhos College recently had their third annual field day at The University of Western Australia's Ridgefield Farm in Pingelly.
The UWA Ridgefield Farm is home to the Future Farm 2050 project, which facilitates multidisciplinary research and development of sustainable and economically viable farms at local, national and international levels.
Professor Phil Vercoe from The UWA School of Agriculture and Environment and The UWA Institute of Agriculture introduced the students to the Enrich project, which was part of the Future Farm Industries Cooperative Research Centre (CRC) investigating the benefits of planting native perennial shrubs as livestock feed.
"Native forage shrubs provide more than nutrition to the animals," Professor Vercoe told the students. "They provide shade and shelter as well, and they produce plant secondary compounds that can reduce the need for chemicals."
The students learnt that there are also a wide range of Natural Resource Management benefits of planting native shrubs, including reducing wind and water erosion of the soil, and increasing biodiversity on the farm.
"Planting native shrubs benefits not only the animals, but the environment as well," Professor Vercoe said. "This is such an important part of livestock production these days, because consumers are demanding products that are 'clean, green and ethical'."
Penrhos College's Geography teacher Mrs Susan Martin has arranged several field trips for her students to the UWA Ridgefield Farm.
"This was our third annual visit," Mrs Martin said. "The information presented perfectly matches the syllabus objectives, and the students are always amazed at the variety and range of impacts from planting one bush species."
Media references
Professor Phil Vercoe (Professor, UWA School of Agriculture and Environment, and Associate Director, The UWA Institute of Agriculture) (+61 8) 6488 6758
Laura Skates (Communications Officer, The UWA Institute of Agriculture) (+61 8) 6488 3756
Tags
Channels

Regional — Science

Groups

UWA Institute of Agriculture — UWA School of Agriculture and Environment