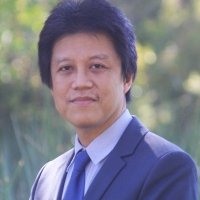 Tuesday, 9 April 2019
As the region's largest democracy goes to the polls, Hadrian G. Djajadikerta (ECU) discusses the probable scenarios and implications, suggesting that the presidential election is the incumbent's to lose. He notes that faith continues to have an indirect role in shaping political choice and that the outcome will be important to the story of embedding democracy. Shamit Saggar
---
Indonesia goes to the polls, 2019: What's at stake?
Associate Professor Hadrian G. Djajadikerta
Indonesia will hold its presidential and parliamentary elections on 17 April this year. The electoral competition is a rerun of the same presidential candidates as the 2014 election. The incumbent President Joko Widodo (widely known as Jokowi) will compete against his challenger, the former Major General Prabowo Subianto.
Since the formal announcement of the 2019 presidential and vice-presidential candidates on 20 September 2018, speculation about who will win the presidential election is quite steady. The results of the polls in the last six months, both by domestic and foreign survey institutions, have consistently shown Jokowi's superiority over Prabowo.
However, Jokowi's supporters' concerns over the possibility that Prabowo could still win the election is quite high. Lies, deception and hoaxes have arisen, and have continued to be actively used and disseminated, both by people known to the public and unknown people through direct face-to-face spin attacks or electronic media – similar to and somewhat more intense than what happened in the 2014 presidential election. This time, however, the level of concern is higher. Some people have learned the case where Trump was able to win the presidential election in the United States by using scare tactics and nationalist rhetoric.
Indonesia is the third largest democracy, but democracy in Indonesia is still young. Less than 20 years ago since the Reformation era, the Indonesian people started to learn about democracy. Political education has been and is still strongly influenced by the mentality that was formed before the era of reformation, a transition due to generational change, and efforts to balance between growth and development in the country and international relation expectations from other countries. Hence a victory by a cleaner candidate in this year's election, hopefully, can continue to develop public trust and provide good political lessons to the public.
Another important issue is the character of Indonesia which has a high level of diversity, in terms of the background, ethnicity, race and religion, that makes the political climate vulnerable to exploitation.
Three presidents, since the fall of the Suharto regime, in the transition period 1998 to 2004, provided an opportunity for the Indonesian people to realise and understand that democracy was possible. The succeeding president then led for 10 years, but many critics said that unfortunately there was no significant progress achieved in that period. The opportunity to develop has unfortunately been wasted.
Jokowi's victory in 2014 provided fresh air for the people. Most people felt optimism for change and progress in the country. The modest character and civil background of Jokowi also made people feel calm and close to their president.
What Jokowi has achieved in the last four-and-a-half years is actually extraordinary. Jokowi's main inevitable achievement is the massive national infrastructure projects that also reach the villages and regions of eastern Indonesia – something that the previous leaders did not emphasise. National health insurance plan, educational supports for school students and takeovers of companies that were previously majority owned by foreign parties are some other achievements that deserve to be commended. However, his over-promise about the economic growth during his 2014 campaign, which ultimately could not be achieved, has been highly criticised.
One significant factor in this year's presidential election is the influence of religious sentiments that caused Basuki Tjahaja Purnama (known as Ahok), the former governor of Jakarta, jailed for blasphemy in 2017. Ahok was previously Jokowi's deputy governor. This blasphemy case gave an opportunity for Jokowi's more conservative opponents to use identity politics and also question the religiosity of Jokowi.
Jokowi's decision to choose Ma'ruf Amin, who is considered one of the most influential Muslim clerics in the country, as his running mate, seemed to have been made to reduce the opportunity for his opponents to exploit this religiosity issue. Both candidates accordingly use similar identity politics. So far, this decision has seemingly been successful.
It is very likely that Jokowi will win the election. Things domestically will predictably run similarly to what has been done for the past four-and-a-half years. As for foreign policy, it is also predicted there will not be much change and Indonesia's foreign policy will remain focused on economic diplomacy and market expansion.
For now, it is safe to say, that it is a long shot for Prabowo to win the election. What is at stake if he indeed wins? It is somewhat premature and oversimplified to speculate now, but it will be astonishing if domestically things will dramatically change. Internationally, his background and records, including the accusation of human rights violations against him, will undoubtedly influence his ability to be respected internationally. Two possibilities can occur. Either he will focus on internal affairs, and that means international relations will be disrupted, or he will try to eliminate his lousy stigma by providing opportunities for broader international relations. It will need to be seen.
Finally, the legislative elections so far have not got as much attention as the presidential election. People tend to forget that choosing competent and committed representatives of the people is very critical because the people's representatives significantly influence and determine both the development and implementation of policies.
Associate Professor Hadrian G. Djajadikerta, PhD is the Associate Dean Research in the School of Business and Law at Edith Cowan University. Hadrian has a PhD in strategic management control, and he is also an industrial engineer and a chartered accountant. Hadrian is also the Vice President of the Indonesia Institute, and the Founding Member and Vice President of the ASEAN Chamber of Commerce.
Tags
Channels

International

Groups

UWA Public Policy Institute