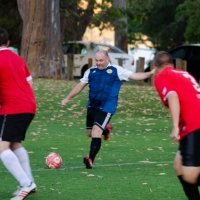 Monday, 8 April 2019
Already emerging as one of Australia's most innovative sport competition, MAN v FAT Soccer has now received important support from Sport Australia.
The program, run by UWA Sport in collaboration with Psychology of Active, Healthy Living (PAHL) group at The University of Western Australia (UWA), has successfully received a $250,000 grant as part of the Move It AUS Participation Grant Program.
With Australian males disproportionately overweight and obese, the program is an important initiative to facilitate weight loss in a social atmosphere, directly supporting Sport Australia's mission to make Australia the world's most active and healthy nation.
MAN v FAT Soccer is one of 52 projects around Australia to share in a total of $13.8 million in Federal Government grants aimed to get more Australians moving.
During a 14-week pilot scheme run at UWA in 2018, players lost 7kg on average and 95% of players lost weight, totalling 515kg across the league. The program has now expanded to include leagues in the City of Cockburn and City of Canning.
"MAN v FAT is a unique program that engages men in a community with similar goals where they wish to address their overall health," said UWA Sport General Manager Ian Fitzpatrick.
"The funding will help us expand the program nationally and help us reduce some of the barriers to participation that men may see in the program. It will also be used to stimulate and support smaller leagues in regional locations."
More information on the MAN v FAT program can be found here .
Media references
Louis Humberstone
UWA Sport Marketing, Communication and Events Coordinator
6488 4309
Tags
Channels

Sport

Groups

UWA Sport