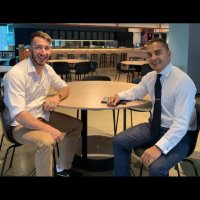 Friday, 5 April 2019
The University of Western Australia has partnered with global technology company VGW to give students more opportunities to complete internships, gain scholarships, and collaborate on innovative research.
The new strategic relationship aims to accelerate innovation. It will provide UWA computer science, software, business and law students with the chance to work with VGW through placements, internships, and work-integrated learning opportunities.
A scholarship has also been made available to students who have overcome hardship.
UWA and VGW will collaborate on research and work together through UWA-led initiatives such as We'll Handle the Business at UWA IQX.
UWA's Associate Director of Innovation Rob Shannon said the partnership would provide invaluable opportunities to UWA students.
"The ability for students to develop practical business experience while networking and collaborating with VGW employees will ensure they are well placed to enter the workforce," he said.
"The University's collaborations with leading global tech companies such as VGW are helping to future proof industry and economic growth."
VGW Chairman Nigel Blythe-Tinker believes investing in the next generation of innovators is critical to future success.
"If we want to continue innovating for generations to come then it makes sense to help develop the next generation of innovators," Mr Blythe-Tinker said.
"As a company that originated and is based in Perth we are proud of our Western Australian heritage. We are excited to celebrate that heritage by building a relationship with a prestigious, well-established institution like The University of Western Australia."
UWA Master of Data Science student Rory Garton-Smith is working as an intern in VGW's Perth office. He originally met the VGW team when they were presenting at a UWA IQX event.
"The VGW presentation was great and I was excited that such an innovative company was looking for young machine learning talent right here in Perth," Rory said.
"VGW has offered me a diverse range of interesting things to work on, which isn't always the case for interns. They have also been extremely flexible, allowing me to set my work schedule around my study commitments to ensure that I have time to finish my remaining studies.
"The best thing about being at VGW is the collaborative work culture. It is a really supportive environment and everyone, regardless of their role, is more than happy to have a chat and show you something new and exciting. I have already learnt so much from being here."
Photo (left to right): Rory Garton-Smith, VGW Intern and UWA student and Laurence Escalante, Founder and CEO, VGW Holdings
Media references
Rob Shannon (UWA Innovation Quarter)   +61 431 757661
Joseph Del Duca (VGW)   +61 410 188 399
Tags
Channels

Business and Industry

Groups

UWA Forward