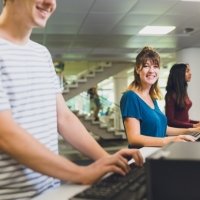 Wednesday, 3 April 2019
UWA students have an opportunity to shape their spaces and services in the University Library by particpating in the biennial Library Student Survey, open from 1-15 April. They'll also have the chance to win an Apple Watch or one of three portable charging devices.
By completing the survey, which ranks the importance and performance of a range of services, students will be contributing to an extensive longitudinal dataset stretching back over 15 years. This data set has helped the University Library become a world-class, student-centric library service, amidst extraordinary and rapid changes in the information environment. Examples of innovation and improvements in the University Library based on data and feedback received in the last Library Student Survey in 2017 are described below.
YOU SAID - Library Student Survey 2017

WE DID

"More spaces like the Reid library upgrade that can be collaborative or individual depending on the people!"

Library Seating

By semester 1 2018 there were over 600 new study spaces in the Reid (200), Marshall (300) and Law (100) libraries. The new furniture includes a range of styles for collaborative, quiet and silent study including 'pods' for quiet groups on quiet floors.

Adjustable height chairs are now provided for the majority of new study spaces in Reid, Marshall and Law libraries, especially in silent study zones.

In addition, 400 broken and damaged chairs were replaced across libraries in 2017/2018.

"There aren't enough chairs for workstations. Nearly half the chairs seem to be the old squeaky style."

The single biggest frustration for me during my time at UWA has been the difficulty of finding a quiet place to study."

"More space to study, especially in BMJ Library, would be helpful, as during the day it is almost impossible to find a seat or desk to study at."

"Quality of furniture varies greatly on levels 1 and 3 of Reid library, eg. broken computer chairs."

"The height of desk for individual study doesn't fit my (and many students who taller than me) height."

"Be more strict about people occupying study space while not being there."

Library Spaces

Library staff now spend more time each day on upper floors and around study desks, ensuring that cleaning and maintenance issues are promptly dealt with, and that library spaces are being used for their intended purposes and all behaviour is respectful of others.

"The Library should be much stricter in requiring students to throw away their own rubbish and to keep the library clean and respectable."

"Longer opening hours."

Opening Hours
Library opening hours were extended over 2017/2018 long vacation to support UWA Summer School and postgraduate students; this continued in 2018/2019 Summer School.

In 2018, semester hours at Marshall library were extended to open at 7am weekdays, and in 2019, additional Friday night opening hours were added for Marshall.

A range of other increases to opening hours were made, with an overall addition of around 1000 hours open across all libraries over the year.

"Suggestion: Barry Marshall opens at 7.30am."

"I think that…extending opening hours, as well as creating more study space is the best way to improve."

"More desks, more PowerPoints (+ higher off ground/table so chargers can fit in them."

Access to power points

We installed 4 new charge bars for phones and devices, which are located with new study desks in Reid, Marshall and Law libraries.

We are investigating other options to provide more power to places in the library where wall mounted power points are not available.

"Onesearch is good, but does not always find what I'm looking for."

OneSearch

Since we received the survey results, we have run student focus groups and conducted usability testing to better understand feedback about OneSearch. The key improvements identified are:

OneSearch now keeps you signed in for longer (60 minutes instead of 30) before timeout, and will leave you on the page you were last looking at (effective Dec 2017)

A prominent "report a broken link" function will be added to OneSearch to provide an immediate mechanism for reporting.

Librarians will conduct further testing on the relevancy of search results and work to resolve issues with the relevancy algorithm not reliably matching author/title searches.

There are identified problems running OneSearch on Internet Explorer. The Library has worked with University IT to change the default browser on Library PCs from Internet Explorer to Chrome.

Based on feedback and usage statistics, search limiters ("Refine my Results") will be adjusted to improve consistency, as well as minimise screen clutter and the need for scrolling.

The "Find it @ UWA" function provides a link from Google Scholar to OneSearch, reducing the need to search twice in both areas. This function will be promoted more widely.

Signing in to OneSearch multiple times is frustrating and a known issue. The Library will continue to work with University IT as a priority to enable Single Sign On for OneSearch and electronic resources.

"Improvements on OneSearch - ever since the refurbish, it's been a little buggy, refreshing sporadically. This gets really frustrating especially when I'm deep into scrolling/browsing articles."

"My only comment would be on the OneSearch website. It is difficult and awkward to use, often I do not find required texts when using keywords. I will often find the text later using a less related key word."

"OneSearch is exceptionally cumbersome and slow. It simply doesn't make sense that one must click and open so many windows and links to get a single article."

"OneSearch could be improved on. The articles are quite limited and sometimes OneSearch doesn't allow you to access the full article which can be a pain."

"… can more of the textbooks in the library be converted into eBooks for borrowing. I travel a lot for field work and conferences, and eBooks have become essential to my learning."

eBooks

We have run focus groups with students so we can better understand the issues you experience accessing eBooks. We're using this feedback to assess and make changes to the eBook content we provide. The Library will continue to:

Liaise with current vendors regarding identified issues.

Investigate alternative platforms for purchasing particular eBook packages that provide an improved user experience and better access.

Improve and promote support materials for using eBooks.

Actively promote the use of Adobe Digital Editions on personal devices to improve the use of eBooks.

Investigate the gap in eBook coverage for Business and acquire additional content.

"….having access to eBook versions would be … useful (…. as it avoids carrying them to and from uni on public transport!)."

"Online e-book accessibility should be smooth…"

"e-Books are not easy to use."
Media references
University Library +61 8 6488 7425
Tags
Groups

University Library