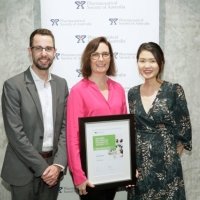 Tuesday, 2 April 2019
The University of Western Australia has a continual roll call of awards, scholarships and prizes presented to staff and students. To recognise these achievements, an article is published on the UWA news page on the website and in UWA Forward on the first week of every month. If you know of great awards or achievements across the University please email [email protected]

Name: Senior Research Fellow Melinda Boss, Faculty of Health and Medical Sciences
Achievement: Ms Boss has received the WA Pharmacist of the Year Award at the annual Western Australian Pharmacist Awards. Ms Boss' work was acknowledged for its impact on the medical community and for raising the profile and influence of the pharmacy profession.

Name: Dr Sagi Peari, UWA Law School
Achievement: Dr Peari has been awardedthe Best Paper Prize at the Corporate Law Teachers Association (CLTA) conference in Auckland. The paper looked at laws applicable in a corporate context.

Name: MBA students Melissa Grove, Josh Connor, Mark Alchin and Bayode Ero-Phillips
Achievement: UWA MBA students have taken out the 2019 Schulich International Case Competition in Toronto. The competition provides students with the opportunity to discuss and debate real-life business challenges, drawing together practical solutions for the mining industry's most challenging issues.

Name: Ryan Whiddett, Employer Liaison Officer, UWA Careers Centre and Student Experience
Achievement: Ryan has been presented with an award by the global University Career Development Conference for the "Professional Service Collaboration APEC". The award recognises the Careers Centre collaboration with LockIn China, which included the launch of a student jobs portal in 2018. Since the portal was launched in August, 11,262 students have accessed it, resulting in 7883 applications and 2331 jobs were specifically advertised for UWA students.

Congratulations UWA staff and students.
Media references
Simone Hewett (UWA Media and PR Adviser)                                (+61 8) 6488 7975
Tags
Channels

Awards and Prizes — Media Statements — Students — University News

Groups

Business Briefing — Faculty of Arts, Business, Law and Education — Faculty of Health and Medical Sciences — Law — School of Medicine and Pharmacology — eBiz