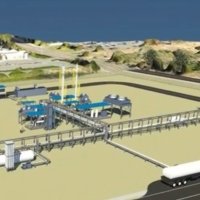 Tuesday, 2 April 2019
The University of Western Australia will lead the development of the LNG Futures Facility, which will include a world-first microscale Liquefied Natural Gas plant for research and education, following today's announcement by Premier Mark McGowan at the LNG19 conference in Shanghai.

The plant will have the capacity to produce up to 10 tonnes of LNG per day and will be used by energy companies, contractors, service providers and small-to-medium businesses to test and refine new technologies at an industrial scale in a live plant environment. It will also enable new levels of education and training, helping to future-proof Australia's future workforce.

The facility, currently being designed by an industry-led initiative including UWA, Chevron, Shell, Hyundai Heavy Industries and National Energy Resources Australia, positions WA as a global leader in the development and testing of new technology and processes, with the potential to create up to 1,400 jobs.

Professor Eric May, UWA's Chevron Chair in Gas Process Engineering, said the LNG Futures Facility ensures an unparalleled capability for our state, providing WA with a competitive advantage in attracting research activity of all scales from around the world.

"It will be a focal point for collaboration and commercialisation of research through engagement with large companies and a wide variety of small-to-medium enterprises," Professor May said.

"The effect will be long-lasting impact on the whole energy and resources sector as it delivers the ability to conduct multidisciplinary research in data science, automation and operational issues of broad relevance.

"WA is already a clear global leader in research and development for the energy and resources sectors, and this will secure that position into the future."

UWA Vice-Chancellor Professor Dawn Freshwater said the LNG Futures Facility will provide a hands-on teaching platform for future engineers in the resources sector.

"This project will augment our graduates' competence and employability through access to an inherently multidisciplinary education, including an ability to offer highly desirable professional practicums. It will be of direct benefit to UWA engineering courses," Professor Freshwater said.

"Technology will allow extended reach to regional, interstate and international students through virtual training courses based on data streams and simulated remote operations."

UWA is also leading an extended industry consortium to help leverage Commonwealth Government support for a Future Energy Exports Cooperative Research Centre (CRC), with a final investment decision expected later in 2019.
Media references
David Stacey (UWA Media Manager)                                          08 6488 3229 / 0432 637 716
Tags
Channels

Business and Industry — Media Statements — Research — University News

Groups

Centre for Energy — ECM Faculty Focus — Faculty of Engineering and Mathematical Sciences — School of Mechanical and Chemical Engineering