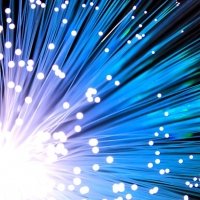 Tuesday, 26 March 2019
The research team behind the design of a new photonic switch to help meet the need of ever-increasing network speeds has been awarded Pathfinder funding to build and test a prototype at UWA.
Associate Professors Mariusz Martyniuk and Gino Putrino, along with Professor Dilusha Silva, all from UWA's Microelectronics Research Group, were awarded up to $25,000 for critical proof-of-concept studies.
The team is using their expertise in building Micro-Electro Mechanical Systems (MEMS) to build a photonic switch to control the path of light in silicon waveguides – a common component of Photonic Integrated Circuits, as used in fibre-optic communication systems.
The new design, which has been computer simulated, is expected to offer several benefits over existing switches.
Assoc. Professor Martyniuk says a major problem with photonic switches is losing light between the various components.
"If the predicted 'low loss' of light in our new design can be demonstrated, it offers the potential for much more efficient optical switching because less light is being lost, resulting in higher performing photonic devices," Assoc. Prof Martyniuk explained.
"The Pathfinder funding goes a long way to being able to test whether the design works as well as we think it will."
Pathfinder funding is available to UWA researchers developing projects with commercial potential and is administered by the Research Commercialisation team in the Office of Research Enterprise.
Up to $100,000 per project is available but typically smaller amounts are used to develop and test aspects of the technology and to 'de-risk' the opportunity.
UWA Manager Research Commercialisation Simon Handford said his office had been pleased to support many projects over the years, some of which have gone on to be successfully commercialised.
"As in this case, it's often a prototype that needs some support, but we've also funded field trials, external testing and market research activities to better understand the commercial potential that our research offers," he said.
Pathfinder has previously supported projects such as Noisy Guts and the "seed flamer" (prototype development), an experimental treatment for stroke (preclinical studies) and the testing of a diagnostic for chronic fatigue.
Pathfinder funding can be applied for at any time and more information is available here .
Media references
Simon Handford +61 8 6488 8187
Tags
Channels

Research

Groups

UWA Forward