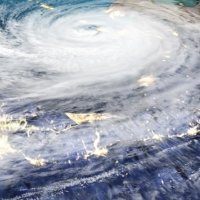 Friday, 22 March 2019
New technology from The University of Western Australia has been deployed to measure the impact of Tropical Cyclone Veronica on ocean waves and the WA coastline.
Researchers  deployed a wave buoy to collect data on wave height, direction, and period. It will transmit data via satellite and display the information in near real time on the publicly accessible website www.wawaves.org
The Bureau of Meteorology has warned that category 4 Cyclone Veronica is likely to cause a severe impact to the coastline.
The deployment is part of an ongoing UWA project in collaboration with Curtin University that investigates the response of the islands in the Pilbara region to rising sea levels, changing ocean conditions, and tropical cyclones. The islands provide a critical habitat for sea birds and nesting sites for turtles.
Wave conditions during the passage of Cyclone Veronica will be monitored, which may be used in the future to predict the impact of cyclones on the region.
Media references
Jess Reid (UWA Media and PR Advisor) 08 6488 6876
Tags
Channels

Research — Science — University News

Groups

Oceans Institute — Science Matters