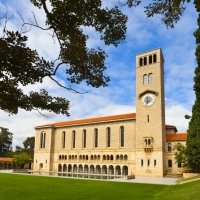 Wednesday, 20 March 2019
The University of Western Australia has reached another milestone in its digital campus journey, working with Cisco to deploy app-based software solution Involvio in partnership with Optus.
The platform will provide a one-stop-shop where students can access all the information they need from what's happening on campus to resources that assist them with their studies.
The Involvio platform combines mobile applications and communication capabilities.
UWA Chief Digital and Information Officer Warwick Calkin said he was pleased to be working with Optus and Cisco to connect students to fast, useful, real-time information.
"Student feedback has indicated the need for an app that houses a suite of information and UWA is pleased to be putting this feedback into practice to support students," Mr Calkin said.
"Students will be able to use the app for information on campus events, timetabling and maps to get to classes, engage in co-curricular activity, participate in discussion forums and plan assignments."
Ken Boal, Vice President, Cisco Australia and New Zealand said by embracing the technology, UWA placed itself at the cutting edge of the student experience.
"Cisco is committed to supporting higher education. Involvio uses our rich technologies to drive student success," he said.
John Paitaridis, Managing Director, Optus Business said digital transformation was a top priority for the tertiary sector and Optus was proud to be working with such an established and respected institution such as UWA to deploy technology solutions to drive innovation.
"In addition to delivering a fully digital engagement experience, through the use of the app based solution, Involvio will provide valuable insights to enhance the student experience," he said.
Media references
Jess Reid (UWA Media and PR Advisor) 08 6488 6876
Tags
Channels

Media Statements — Students — Teaching and Learning — University News