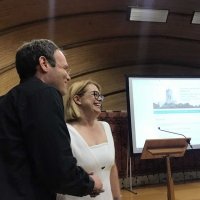 Tuesday, 19 March 2019
Congratulations to Doctor Sagi Peari who was awarded the Best Paper Prize at the Corporate Law Teachers Association (CLTA) conference in Auckland.
The annual conference was hosted by the University of Auckland and the award ceremony was attended by leading academics, judiciary and policy makers.
"I would like to sincerely thank CLTA's Executive Committee for the trust in my candidacy and my work. I was deeply touched by the high level of collegiality and the warm welcoming I received at the conference", Dr Peari said.
Dr. Peari's paper addresses the question of applicable law in the corporate context. Which law, for example, applies to adjudicate a contract between an Australian corporation and a Chinese corporation with respect to delivery of goods in Brazil?
"Corporations play a most central role in our social life. The phenomenon of globalization, multistate business activity applies to corporations with enhanced force. My paper aims to address the one of the key legal questions that this phenomenon has created for the traditional legal doctrine of corporations", Dr. Peari commented.
The Corporate Law Teachers Association represents an institutional body of corporate law teachers in Australia, New Zealand and the Asia Pacific region.
Media references
Telisha Norrish (UWA Faculty of Arts, Business, Law and Education) (+61 8) 6488 2570
Tags
Channels

Awards and Prizes

Groups

Faculty of Arts, Business, Law and Education