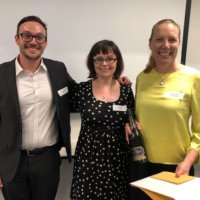 Tuesday, 19 March 2019
Congratulations to Dr Josephine Muir and the Noisy Guts Team - winner of the 'Best in the West' pitch event. The prize was awarded by the Licensing Executives Society of Australia and New Zealand (LESANZ Inc).
Proudly sponsored and hosted by RSM, each team had just 5 mintues to convince both the panel of expert judges and the live audience that they deserved the title of Champion Pitch and/or the People's Choice Pitch. Josephine and the Noisy Guts team faced tough competition, especially from Udrew's Tom Young and Gelavo's Anthea Rodoreda (whose vegan icecream taste-tests were a hit with the judges!)
Josephine won a series of vouchers to help the team along their commercialisation journey.
Media references
For more information, please contact Josephine Muir [email protected]
Tags
Groups

The Marshall Centre for Infectious Diseases Research and Training