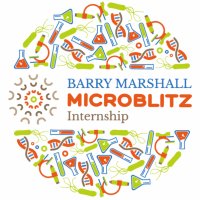 Tuesday, 19 March 2019
An exciting collaboration has been launched between two innovative UWA Research Centres, The Marshall Centre for Infectious Diseases Research and Training (School of Biomedical Sciences) and MicroBlitz (School and Agriculture and Environment). The UWA 2019 Barry Marshall MicroBlitz Internship has provided eight enthusiastic female science students with an internship placement and is generously funded by the WA Government's Department of Jobs, Training, Science and Innovation (JTSI) and is administered by the Marshall Centre and MicroBlitz project teams.
In two cohorts, the MicroBlitz interns have undertaken a two-week placement, receiving intensive training in both Professor Marshall and Professor Whiteley's laboratories, experiencing the major techniques required for environmental microbiome, Helicobacter pylori focused microbiology as well as understanding the antibiotic resistance, PCR, Next Generation Sequencing, and some essential bioinformatics.
Given our all-female cohort, it was timley to celebrate the United Nations International Day of Women and Girls in Science.
The UWA 2019 Barry Marshall MicroBlitz Interns are developing a science activity for upper primary and lower high school students, to complement their community engagement and outreach opportunities with MicroBlitz. A regional school visit with Professor Marshall and Professor Whiteley is also planned for Kalgoorlie next month.
The official launch of the Inaugural UWA 2019 Barry Marshall MicroBlitz Internship , was held on Friday 15 February, in the UWA Sunken Garden. Professor Marshall and Professor Whitely welcomed the MicroBlitz Interns and dignitaries including Professor Lyn Beazley (MicroBlitz Patron and former WA Chief Scientist) and Professor Simon Biggs (UWA Senior Deputy Vice Chancellor). The MicroBlitz Interns were very eager to share their invaluable learned experiences and skills and expressed increased confidence in their science knowledge and decision-making capabilities.
Media references
For further information, contact Josephine [email protected]
Tags
Groups

The Marshall Centre for Infectious Diseases Research and Training