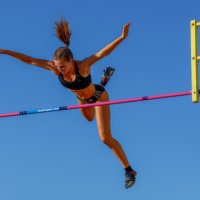 Monday, 18 March 2019
A number of UWA athletes have been rewarded for their hard work with podium places in the Perth Track Classic over the weekend.
Young gun Lauren Hyde-Cooling marked her new personal best with a win, with a victory height of 4.12m.
The UWA Athletics Club youngster has been in strong form in recent competition, training alongside established pole vaulters Nina Kennedy and Liz Parnova.
Nina Kennedy also put on a strong display, clearing 3.96m from a short run-up in preparation towards the IAAF World Championships in Doha later this year.
In the men's pole vault, UWA student athlete Stephen Clough hit his first personal best in 2 years with a World University qualifying height of 5.40m.
Declan Carruthers was the men's pole vault champion, clearing 5.51m for victory ahead of fellow UWA Athletics vaulter Angus Armstrong.
Student athlete Chloe Metcalf came second in the javelin with a 39.82m throw, while in the men's javelin student athlete Cruz Hogan also came second, with a 70.76m throw placing him just behind Commonwealth Games medallist Hamish Peacock.
UWA Athletics Club Captain Alannah Yukich easily won the 400m hurdles, with student athlete Katherine Sparrow finishing in second place.
In the men's high jump, sibling duo Grant and Sean Szalek once again took out the top two spots.
Grant has been in fine form recently that has seen him set new personal bests and World University Games qualifying performances of 2.20m and 2.21m.
For full Perth Track Classic results, click here .
Image credit: Lauren Hyde-Cooling photographed by John Forbes
Media references
Louis Humberstone
UWA Sport Marketing, Communication and Events Coordinator
6488 4309
Tags
Channels

Sport

Groups

UWA Sport