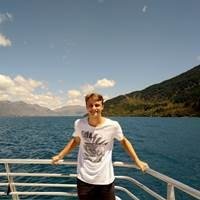 Wednesday, 1 May 2019
About Lewis

Lewis Weeda is in the second year of his undergraduate degree with a major in Medical Sciences and a second in Indonesian Studies. Lewis has had the chance to study abroad in Indonesia during his first year and is enjoying many of the opportunities UWA has to offer. Late last year, Lewis spoke to high school graduates about his UWA experience at the School Curriculum and Standards Authority Exhibitions and Awards Ceremony.

Early UWA experience

During my first year at UWA, I studied Indonesian and Medical Sciences and became involved in numerous campus activities such as Teach Learn Grow, Medical Orchestra, Ignite Mentoring, Unisports and UniMentor, and was a member of various club committees. I was also fortunate enough to study at Universitas Kristen Satya Wacana (UKSW) in Indonesia through the ACICIS language program, which I could easily say was the highlight of my first year. I was also able to work with the Indigenous community of Mowanjum just outside Derby through The Boab Network. The network was formed in response to a suicide crisis in the small Kimberley community and now acts as a partner to the community members, aiming to realise the community's goal of economic and social sustainability. Over my five years of involvement with Mowanjum, I have made close relationships with many community members and learnt many valuable lessons.

While my first year experience was nothing short of amazing, at times I felt out of my comfort zone and overwhelmed. I learnt that it was okay to lean on others for help. This encouraged me to reach out to community networks on campus that introduced me to new people and new friendships, while still appreciating my old ones.
Making the most out of extracurricular activities

Taking up opportunities such as extracurricular activities and being involved in diverse networks most definitely added to my enriched university experience. Not only have they connected me with communities within UWA, but they allowed me to become more involved in what I am interested in. In saying this, I also found there were some extracurricular activities I was involved with that didn't resonate with me greatly. I think one of the lessons I learnt during my first year at university is that not all clubs are suited to every individual. I encourage all first years to become involved in as many activities as they can, so they can find the ones that are truly of value and are meaningful to them.

A supported learning journey

When I think of all the extra activities I got involved in at university and how these have supported my learning at UWA, I think less of learning unit content but more of all the other valuable lessons I learnt along the way, including making strong community links and networks I know will be invaluable in my career journey.
In saying this, extracurricular activities have connected me with study groups and resources which supported me in my academic studies immensely. The main way in which these activities have supported me is by providing me with a broader, more balanced university life which has offered many exciting but also humbling experiences and opportunities.
Tags
Groups

Education Quarterly