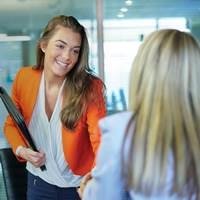 Wednesday, 1 May 2019
The UWA Careers and Employability Award program is set to place students on the right career path.

Since its launch in October last year, the program has had about 350 students register for the program, looking to further develop their knowledge, skills and attributes through practical real-world experiences.

Run by the UWA Careers Centre, the program helps students build employability skills and networks, so they are ready to take up opportunities that are integral to their career success.

On completion, students receive an Award certificate and verification on their co-curricular transcript upon graduation.

In addition to the valuable career advice and information, the Centre's comprehensive career program encompasses hands-on experiential activities which are highly valued by employers who seek career-ready students.

General Manager of UWA Sport Ian Fitzpatrick believes students who complete all aspects of the Award, such as volunteering and work experience, will develop sound interpersonal and time management skills, thus becoming more employable.

"Knowing that a student has completed all aspects of the Award will make my job easier in the future. I'll be giving my priority to students who have completed the Award by including it as desirable or essential selection criteria in our advertised roles," he says.

The Award consists of four compulsory sections which include an employment module, career development activities, experiential activities and a module that focuses on reflection.

Students who complete the Award develop a ready- to-go personalised Career Toolkit for their job search and are given the opportunity to participate in career development and practical activities to enhance their employability.

While it is always important for students to achieve excellent grades, employers also look for more than just academic performance.

Manager of Careers Diane McLaren says the Careers and Employability Award uses evidenced-based strategies to help build students' self-awareness of job preferences, career decision-making and job application skills which will improve their graduate success.

"The Award ensures our students will become more actively engaged with the wider university community, through participation in clubs, professional associations, volunteering and work experience," she says.

"Actively participating in employer events on campus and programs such as the award-winning Career Mentor Link and Careers Fair, provides an opportunity for our students to network with key industry contacts.

"In 2019, students participating in the Career Mentor Link program will be required to complete the Award as part of the program."

An increasing number of extra-curricular activities have been added to the Award including, IQX Academy, UWA Science Competition, and supplementary activities from UniHall, UniMentor, the McCusker Centre for Citizenship, Ernst and Young, UWA Toast Masters, and Career Mentor Link.

If you would like an activity considered for inclusion in the Award apply here .

Find out more information on the UWA Careers and Employability Award, watch the UWA Careers and Employability Award video or download the infographic .
Tags
Groups

Education Quarterly