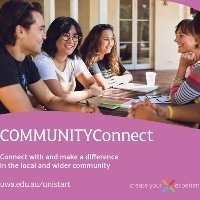 Wednesday, 1 May 2019
Our new commencing students have been reaping the benefits of an extended six-week orientation journey which kicked off at the start of Semester 1.

The newly implemented orientation program aims to improve the transition to university for our commencing students through a coordinated program of activity across the first six weeks of semester.

In partnership with other areas across the University, the Student Guild and external partners, the program engages commencing and continuing students with a broad range of activities across six themed weeks:
Week 1: Study Connect
Week 2:  Social Connect
Week 3: Career Connect
Week 4: Wellness Connect
Week 5: Community Connect
Week 6: Global and Cultural Connect
The extended orientation program is designed to support students with a deeper level of engagement through their transition to study.

Having the program run over several weeks reduces pressure and competing messages during O-Week, and encourages students to reflect on their transition needs alongside engaging with their first academic experiences.

While designed around commencing students, the program is open to all students and intended to engage continuing students with strategies and opportunities that support their success and enrich their university experience.

Each week's theme encompasses a coordinated suite of activity and promotion to students. Messages reflecting each theme are communicated on social media, various student communication channels and key websites to ensure consistency and reach.

Such a collaborative approach is intended to build a more comprehensive platform for success for our students through deeper engagement with programs that support academic skill development, career planning and wellbeing, alongside greater connections with the diverse student community.

While some new initiatives will be occurring during the weeks, much of the program reflects activities that have previously occurred. The intent is to reduce competition or confusion in student communications and to build a more comprehensive approach to each of the themes. For example, in the third week of semester, the Career Connect program included regular activities such as the Careers Expo but also aligned with volunteering activities led by the Student Guild.

These changes build on the positive improvements delivered by the Transition team in 2018, including new initiatives such as the launch of the enhanced UniStart website and more inclusive and engaging Welcome Ceremony . These changes have been positively received by students as measured in Orientation surveys and the University's performance in the International Student Barometer with overall Arrival satisfaction for our Semester 1, 2018 commencing international students at 92.4 per cent (the highest amongst the Group of Eight universities).

For more information about the six themed weeks for our commencing students, visit UWAConnect or contact Narelle Palmer, Manager Transition .
Tags
Groups

Education Quarterly