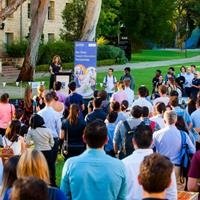 Wednesday, 1 May 2019
Global mining group Rio Tinto and The University of Western Australia have had an established Talent Education Partnership for more than two decades. Over these years, it has delivered multiple initiatives and opportunities for UWA students.

In 2018 the partnership broadened its reach with the establishment of the UWA Rio Tinto Student Engagement Program. Since then, a comprehensive suite of engagement activities has been implemented, with Rio Tinto being available to provide its expertise to our students throughout their time at university.

The program encompasses activities which focus on the development of skills such as leadership, teamwork and cultural intelligence. In addition, events with staff from the University and Rio Tinto have provided opportunities for networking and further career development. The program also included the inaugural Common Purpose Global Leader Experience, check-in phone calls to first-year students and the Mining Your Potential Program. In 2018 more than 600 students attended these activities.

In February 2019, 30 students were selected from UWA's engineering and associated disciplines to attend the Stepping up Leadership Program as part of the broader Rio Tinto Engagement Program. The four-day program held at UWA's Innovation Quarter provided students with invaluable opportunities to challenge their assumptions of leadership, explore their leadership strengths and identify areas for improvement.

"I came into this experience tired and with no expectations; when I left I felt the potential in me awaken," said a student participant.

Facilitated by Dr Jacquie Hutchinson from the UWA Business School and Kelly Barker from the Aamori Group, the program is based on the 'Student Leadership Challenge' model. This leadership learning model draws on five exemplary practices: model the way, inspire a shared vision, challenge the process, enable others to act, and encourage the heart. Students also had the exclusive opportunity to learn from leaders in the not-for-profit and entrepreneurship space, who shared their journeys over a lunch panel discussion. A personalised student leadership practices inventory intended for students to understand their capacity as a leader, in tandem with a range of experiential learning activities made for a rewarding program.

The Stepping up Leadership Program, along with several other activities across the broader program, were made possible by the generous, ongoing support of Rio Tinto and the investment of time and expertise from our dedicated UWA staff and student leaders.

In 2019, the Rio Tinto Student Engagement Program promises to deliver an enhanced catalogue of engagement activities in partnership with existing UWA programs. Students can expect to see the return of well-received activities from 2018, as well as new innovative initiatives focused on building the skills of our future leaders.

Find out more about the Rio Tinto Student Engagement Program by contacting Hannah Lye , Project Officer, Student Life and Experience.
Tags
Groups

Education Quarterly