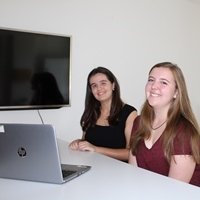 Wednesday, 1 May 2019
Providing students with unique opportunities to progress their career sits at the core of University Hall's growing Professional Development program.

Last year, more than 130 students took part in University Hall's six Professional Development programs. This number is expected to rise in 2019, with bold plans to expand opportunities and to ensure programs are approved for student credits with the UWA Careers Workplace Integrated Learning and Career and Employability Award. A new Innovation Space dedicated for program participants is also in the works.

"Enabling our residents to develop professional and career-specific skills that complement their studies is an important focus at University Hall," says Mark Sampson, University Hall Principal. "We're proud to be driving unique programs for our community, to help prepare students to leave UWA as leaders of purposeful lives."

One program unique to University Hall residents is Sites4Good, where students work in partnership with digital agency Unleash Design to build websites for small- and medium-sized charities. Gaining popularity, the program began last year in Semester 1 as a trial, and has grown from nine to 21 students, with a target to increase participation to 80 by 2020.

UWA student Jasmine Kasper participated in the trial program last year and is now the 2019 Program Executive Director. Her first project was building the James Crofts Hope Foundation website, which went live in July 2018.

Speaking about this project, Jasmine says:

"At the time of joining the program I was doing a Bachelor of Design, so I thought it would be useful to gain some practical experience in that area. I'm proud of what I've created for the James Crofts Hope Foundation. I feel it has helped me gain some new skills, meet new people, and I like that I've been able to give back to the community through this program."

Other programs collaborate with organisations to provide internships, work experience or training programs for students, such as the West Winds Gin marketing internship, the Indigenous Pathway to Employment Program with Illuminance Solutions and the UWA School of Indigenous Studies, or the Events Management Paid Internship opportunity with IQX.

A major development this year will see all professional development programs operate out of University Hall's new co-working environment – the Innovation Space.

Funded by the Strategic Initiative Fund Grant, the Innovation Space will support students from a technological and spatial perspective, allowing them to come together and work in a dedicated space, access the technology they need to engage in activities, and have a professional space to bring industry leaders for seminars, one-on-one mentoring and other meetings.

The student-centric design and fit-out was developed in conjunction with past and present UWA students, and features Apple Mac computers, projection screens, online conferencing technology and seating capacity for more than 25 people.

UWA student Claudia Andro will utilise the Innovation Space in University Hall's UCafe Business and Internship Program, and looks forward to the opportunities working in the space will bring.

"I'm so excited for us to put this space to good use. We finally have somewhere we can collaborate as young professionals and explore our creative side," Claudia says.
Tags
Groups

Education Quarterly