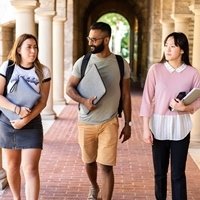 Wednesday, 1 May 2019
UWA has always produced career-ready graduates, but our Work Integrated Learning (WIL) strategy aims to make these experiences more explicit and accessible for all students. Specifically, the strategy will lead to providing every student with the opportunity to undertake a WIL placement and ensure every major has a WIL activity embedded within its curriculum.

To assist us in meeting our goal of providing more placements to students, UWA has contracted the Chamber of Commerce and Industry Western Australia (CCIWA) to provide an additional 500 placements for students in 2019. The CCIWA team is located on campus in Student Central and is complementing the range of placements in ABLE and Science, in addition to dedicated placement opportunities for engineering students.

This is the first time engineering students will have dedicated support from UWA staff and contracted CCIWA staff to assist them with finding suitable, quality-assured placements that will enhance their career-readiness and support the course requirement of professional practicum hours.

For more information on the CCIWA and WIL partnership contact Alyce-Maree Walpole .
Tags
Groups

Education Quarterly