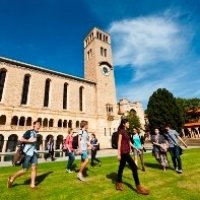 Wednesday, 1 May 2019
The Future of Schooling Policy
Over the past decade, the Australian education system has undergone seismic shifts with major national reforms in areas including curriculum, assessment, teaching, reporting, funding and school governance.
Despite major innovations and disruptions, persistent problems continue; including inequality, underachievement in literacy and numeracy, and worrying numbers of young people failing to complete Year 12.
The Future of Schooling Policy forum was moderated by The Honourable Colin Barnett MLA, former Premier of Western Australia and saw five leading education experts debate issues in the evolving landscape of schooling policy.
Other topics of discussion included the impact of NAPLAN testing, the role curriculum plays in equipping young people for rapidly changing global settings; the contested role of the Australian Tertiary Admission Rank (ATAR), how to tackle inequality in schools, how parents can better engage in school-based decision-making and the hopes and challenges of emerging digital learning.
Speakers included Dr Glenn Savage, senior lecturer in education policy and sociology of education at UWA; David de Carvalho, CEO of Australian Curriculum, Assessment and Reporting Authority; Dr Edward Simons, Director, Governance, Strategy, Communications and Digital Technology, Catholic Education WA; Carolyn Cook, Principal of Newman Senior High School; and Dr Deborah Netolicky, Dean of Research and Pedagogy at Wesley College.
You can view the full forum discussion here .
Future of Work in Western Australia
The Future of Work in Western Australia forum focused on what work will look like in this corner of the world in coming decades.
Jamie Simon, Head of Government and Enterprise (SEEK) shared the four big global trends shaping the future of work and the panel of industry experts discussed how these trends could impact Western Australia given the unique industry structure, as well as employment market conditions.
Panellists included Dr Caleb Goods, lecturer in management and organisations at UWA's Business School; Jamie Simon, head of enterprise and government at SEEK; Paula Rogers, state director WA, Committee for Economic Development of Australia (CEDA); Monish Paul, lead partner, digital strategy practice – Australia/New Zealand at IBM Global Services; Michelle Hoad, managing director and CEO, North Metropolitan TAFE and Mr Arj Selvam, entrepreneur and strategy consultant – previously head of expansion at UBER.
You can view the full forum discussion here .
Both forums were held at The University of Western Australia and formed part of UWA's Public Policy Institute calendar of events for 2019.
Tags
Groups

Education Quarterly